Datasheet Diodes AZV3001FZ4-7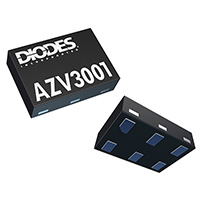 Single Channel Low Voltage Push-Pull Output Comparators
Documents:
Manufacturer's Classification:
Analog > Linear Products > Comparators
Other Names: AZV3001FZ47, AZV3001FZ4 7
Docket:
AZV3001, AZV3002
Single/Dual Channel Low Voltage Push-Pull Output Comparators Description
AZV3001 and AZV3002 are single and dual channel comparators developed for new generation low-power comparator family for batterypowered devices and systems requiring low voltage operation. Pin Assignments
AZV3001 OUT
The supply current each comparator typically consumes is 6µA to extend battery life. It is guaranteed to operate at a low voltage of 1.6V and is fully operational up to 5.5V. These features make the AZV3001 and AZV3002 convenient for use in 1.8V, 3.0V and 5.0V systems and perfectly suitable for battery-powered devices...
Series: AZV3001, AZV3002 (2)
RadioLocman on the Social Web: