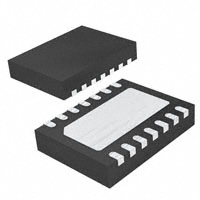 Low Noise Dual Supply Inverting Charge Pump
Documents:
Manufacturer's Classification:
Power Management > Inductorless (Charge Pump) DC/DC Converters > Regulated Inverting Charge Pumps
Other Names: LTC3260EDETRPBF, LTC3260EDE TRPBF
Docket:
LTC3260 Low Noise Dual Supply Inverting Charge Pump FeaTures DescripTion
The LTC®3260 is a low noise dual polarity output power supply that includes an inverting charge pump with both positive and negative LDO regulators. The charge pump operates over a wide 4.5V to 32V input range and can deliver up to 100mA of output current. Each LDO regulator can provide up to 50mA of output current. The negative LDO post regulator is powered from the charge pump output. The LDO output voltages can be adjusted using external resistor dividers. The charge pump employs either low quiescent current Burst Mode operation or low noise constant frequency mode. In Burst Mode operation the charge pump VOUT regulates to ­0.94 VIN, and the LTC3260 draws only 100µA of ...