Datasheet ZMDI ZSPM1503ZA1W0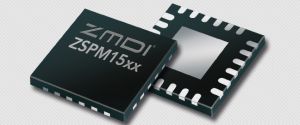 True-Digital PWM Controller (Single-Phase, Single-Rail)
Documents:
Manufacturer's Classification:
Power Management ICs
Docket:
Data Sheet
Rev. 2.10 / March 2015 ZSPM15xx
True-Digital PWM Controller (Single-Phase, Single-Rail) Power Management ICs Power and Precision ZSPM15xx
True-Digital PWM Controller (Single-Phase, Single-Rail) Brief Description
ZSPM15xx family ICs are controllers designed for high-current, non-isolated DC/DC step-down point of load (POL) converters. The ZSPM15xx has a digital control loop that is optimized for maximum stability as well as load step and steady-state performance. ZSPM15xx family ICs have a rich set of integrated fault protection features including over-voltage/ under-voltage, output over-current, and over-temperature protections. To facilitate ease of use, the ZSPM15xx is pre-programmed and available for common output voltages. To provide flexibility for the end-customer, the over-current protection threshold and the control loop compensation are selectable by the end-customer to match a number of selected power stages. ZSPM15xx family ICs have been optimized for maximum efficiency when used with ZMDI's DrMOS devices. Reference designs and application instructions enable a high performance turnkey solution without extensive engineering development. Benefits Factory pre-configured for industry standard output voltages and currents enabling fast time-to-market Simplified design and integration FPGA designer-friendly solution Highest power density with smallest footprint Higher energy efficiency across all output loading conditions Operation from ...
RadioLocman on the Social Web: