Datasheet Linear Technology LTP5901IPC-IPRB1C1#PBF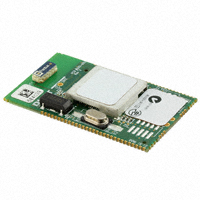 SmartMesh IP Network Manager 2.4 GHz 802.15.4e Wireless Embedded Manager
Documents:
Manufacturer's Classification:
Wireless Sensor Networks > SmartMesh IP
Other Names: LTP5901IPC-IPRB1C1PBF, LTP5901IPC-IPRB1C1 PBF, LTP5901IPCIPRB1C1#PBF, LTP5901IPC IPRB1C1#PBF
Docket:
neTwork FeaTures
n LTP5901-IPR/LTP5902-IPR SmartMesh IP Network Manager 2.4GHz 802.15.4e Wireless Embedded Manager DescripTion
SmartMesh IPTM wireless sensor networks are self managing, low power internet protocol (IP) networks built from wireless nodes called motes. The LTPTM5901-IPR/ LTP5902-IPR is the IP manager product in the Eterna®* family of IEEE 802.15.4e printed circuit board assembly solutions, featuring a highly integrated, low power radio design by Dust Networks® as well as an ARM Cortex-M3 32-bit microprocessor running Dust's embedded SmartMesh IP networking software. Based on the IETF 6LoWPAN and IEEE-802.15.4e standards, the LTP5901/2-IPR runs SmartMesh IP network management software to monitor and manage network performance and provide a data ingress/egress point via a UART interface. The SmartMesh IP software provided with the LTP5901/2-IPR is fully tested and validated, and is readily configured via a software application programming interface. With Dust's time-synchronized SmartMesh IP networks, all motes in the network may route, source or terminate data, while providing many years of battery powered operation. SmartMesh IP motes deliver a highly flexible network with proven reliability and low power performance in an easy-to-integrate platform.
L, LT, LTC, LTM, Linear Technology, Dust, Dust Networks, Eterna, SmartMesh and the Linear logo are registered trademarks and LTP, SmartMesh IP and the Dust Networks logo are trademarks of Linear Technology Corporation. All other trademarks are the property of their respective owners. Protected by U.S. Patents, including 7375594, 7420980, 7529217, 7791419, 7881239, 7898322, 8222965. * ...
Series: LTP5901-IPR, LTP5902-IPR (12)
RadioLocman on the Social Web: