Datasheet Linear Technology LT3748MPMS#TRPBF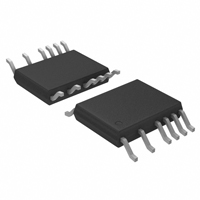 100 V Isolated Flyback Controller
Documents:
Manufacturer's Classification:
Power Management > Switching Regulator > Flyback, Forward and Isolated Controllers
Other Names: LT3748MPMSTRPBF, LT3748MPMS TRPBF
Docket:
LT3748 100V Isolated Flyback Controller Features Description
The LT®3748 is a switching regulator controller specifically designed for the isolated flyback topology and capable of high power. It drives a low side external N-channel power MOSFET from an internally regulated 7V supply. No third winding or opto-isolator is required for regulation as the part senses the isolated output voltage directly from the primary-side flyback waveform. The LT3748 utilizes boundary mode to provide a small magnetic solution without compromising load regulation. Operating frequency is set by load current and transformer magnetizing inductance. The gate drive of the LT3748 combined with a suitable external MOSFET allow it to deliver load power up to several tens of watts from input voltages as high as 100V. The LT3748 is available in a high voltage 16-lead MSOP package with four leads removed.
L, LT, LTC, LTM, Linear Technology and the Linear logo are registered trademarks of Linear Technology Corporation. All other trademarks are the property of their respective owners. Protected by U.S. Patents, including 5438499 and 7471522. 5V to 100V Input Voltage Range 1.9A Average Gate Drive Source and Sink Current Boundary Mode Operation No Transformer Third Winding or Opto-Isolator Required for Regulation Primary-Side Winding Feedback Load Regulation VOUT Set with Two External Resistors INTVCC Pin for Control of Gate Driver Voltage Programmable Soft Start Programmable Undervoltage Lockout Available in MSOP Package applications Isolated Telecom Converters High Power Automotive Supplies Isolated Industrial Po...
RadioLocman on the Social Web: