Datasheet Analog Devices AD8338ACPZ-RL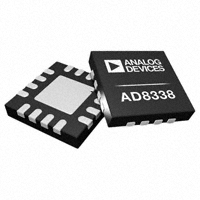 Low Power, 18 MHz Variable Gain Amplifier
Documents:
Other Names: AD8338ACPZRL, AD8338ACPZ RL
Docket:
Data Sheet
FEATURES Low Power, 18 MHz Variable Gain Amplifier AD8338
FUNCTIONAL BLOCK DIAGRAM
VBAT OFSN VREF OFFSET NULL Voltage controlled gain range of 0 dB to 80 dB 3 mA supply current at gain of 40 dB Low frequency (LF) to 18 MHz operation Supply range: 3.0 V to 5.0 V Low noise: 4.5 nV/Hz at 80 dB gain Fully differential signal path Offset correction (offset null) feature Internal 1.5 V reference 16-lead LFCSP Automatic gain control feature Wide gain range for high dynamic range signals AD8338 FBKP VGA CORE INPR + + OUTPUT STAGE 0dB ­ 0dB TO 80dB INPD VREF FBKM OUTP INMR ­ OUTM INMD GAIN INTERFACE Front end for inductive telemetry systems Ultrasonic signal receivers Signal compression for driving an ADC AGC amplifiers COMM MODE GAIN DETO VAGC Figure 1.
100 80 60
VGAIN = 1.1V VGAIN = 1.0V VGAIN = 0.9V VGAIN = 0.8V VGAIN = 0.7V VGAIN = 0.6V VGAIN = 0.5V VGAIN = 0.4V VGAIN = 0.3V VGAIN = 0.2V VGAIN = 0.1V GENERAL DESCRIPTION
The AD8338 is a variable gain amplifier (VGA) for applications that require a fully differential signal path, low power, low noise, and a well-defined gain over frequency. While the inputs are differential, the device can also be driven with a single-ended source if required. The basic gain function is linear-in-dB and is controlled by the voltage applied to Pin GAIN. The nominal gain range spans from 0 dB to 80 dB for control voltages between 0.1 V to 1.1 V with a slope of 12.5 mV/dB. The nominal gain range can be shifted up or down via direct access to Pin INPD and Pin INMD, the current inputs of the VGA. For...
RadioLocman on the Social Web: