Datasheet Analog Devices ADP5134ACPZ-R7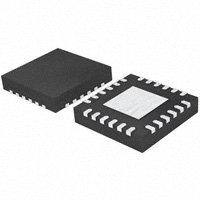 Dual 3 MHz, 1200 mA Buck Regulators and Two 300 mA LDO Regulators With Precision Enable and Power-Good Output
Documents:
Other Names: ADP5134ACPZR7, ADP5134ACPZ R7
Docket:
Dual 3 MHz, 1200 mA Buck Regulators and Two 300 mA LDO Regulators With Precision Enable and Power-Good Output Data Sheet
FEATURES
Main input voltage range of 2.5 V to 5.5 V Two 1200 mA buck regulators and two 300 mA LDO regulators 24-lead, 4 mm × 4 mm LFCSP package Regulator accuracy of ±1.8% Factory programmable or external adjustable VOUTx Precision enable pins for easier power sequencing Factory selectable power-good pin 3 MHz buck operation with forced PWM and automatic PWM/PSM modes BUCK1/BUCK2: output voltage range from 0.8 V to 3.8 V LDO1/LDO2: output voltage range from 0.8 V to 5.2 V LDO1/LDO2: input voltage range from 1.7 V to 5.5 V LDO1/LDO2: high PSRR and low output noise
VIN 2.5V TO 5.5V
10 ADP5134
TYPICAL APPLICATION CIRCUIT
VOUT1 SW1 FB1 PGND1 MODE VOUT2 SW2 FB2 PGND2 L2 1µH R3 R4 C4 10µF L1 1µH R1 R2 PWM
13 VIN1 C1 4.7µF ON OFF EN1 16 15 BUCK1 1.2A
12 11 14 C2 10µF PSM/PWM VIN2 C3 4.7µF ON OFF EN2 AVIN VINLDO1 1.7V TO 5.5V C5 0.1µF C6 1µF ON OFF VINLDO2 1.7V TO 5.5V EN3 VIN3 3 MODE BUCK2 1.2A 9 4 8 5 7 17 HOUSEKEEPING 21 LDO1 300mA
22 20 19 VOUT3 FB3 R5 R6 C7 1µF VIN4 C8 1µF ON OFF EN4 23 APPLICATIONS
Power for processors, application specific integrated circuits (ASICs), field programmable gate arrays (FPGAs), and radio frequency (RF) chipsets Portable instrumentation and medical devices Space constrained devices LDO2 300mA
2 24 1 VOUT4 FB4 R7 R8 C9 1µF VDDIO POWER GOOD PG
6 R1 100k AGND Figure 1. GENERAL DESCRIPTION
The ADP5134 combines two high performance buck regulators and two low dropout (LDO) regulators. It is available in a 24-lead 4 mm × 4 mm LFCSP. The high switching frequency of the buck regulators enables tiny multilayer extern...
RadioLocman on the Social Web: