Analog Devices, Inc., which recently acquired Linear Technology Corporation, announces the LTC7820, a high power fixed ratio charge pump DC/DC controller that eliminates the power inductor in a non-isolated intermediate bus converter, allowing up to a 50% reduction in circuit size and up to 4000 W/in3 power density. The LTC7820 drives external MOSFETs in voltage divider, doubler or inverter configurations with an efficiency of up to 99%. Its open loop fixed duty is ideal for non-isolated intermediate bus applications in power distribution, datacom, telecom, high-end computing and industrial systems.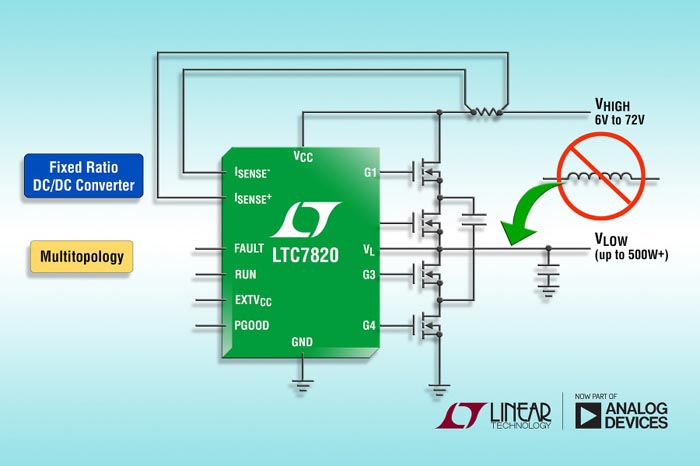 The LTC7820 operates over a 6 V to 72 V (80 V abs max) input voltage range and can produce output currents in multiple 10s of amps, depending on the topology and choice of external components. It can be configured for a 2:1 step-down ratio from an input voltage up to 72 V. Two of the LTC7820 IC's can be cascaded for a 4:1 step-down ratio. For even higher step-down ratios, such as a 6:1, the Dickson converter topology is recommended and is ideal for 54 V input to a 9 V outputs, requiring only a single LTC7820. The LTC7820 can also be configured for a 1:2 step-up ratio or a 1:1 inverter ratio from an input voltage as high as 36 V. External MOSFETs switch at a fixed frequency, programmable from 100 kHz to 1 MHz. The LTC7820's powerful 1.1 Ω N-channel MOSFET gate drivers maximize efficiency and can drive multiple MOSFETs in parallel for higher power applications.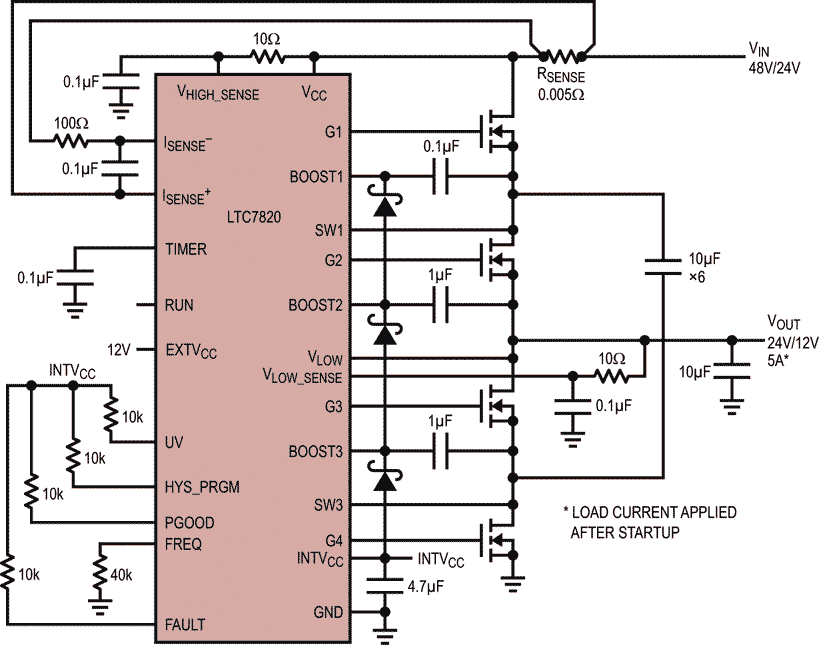 Very High Efficiency 5 A Voltage Divider.
The LTC7820 monitors system voltage, current and temperature for faults, and uses a sense resistor for overcurrent protection. It stops switching and pulls the /FAULT pin low when a fault condition occurs. An onboard timer can be set for appropriate restart/retry times. The EXTVCC pin permits the LTC7820 to be powered from the lower voltage output of the converter or other available sources up to 40 V, reducing power dissipation and improving efficiency. Additional features include soft switching for low EMI, a power good output signal, undervoltage lockout and internal charge balance circuitry.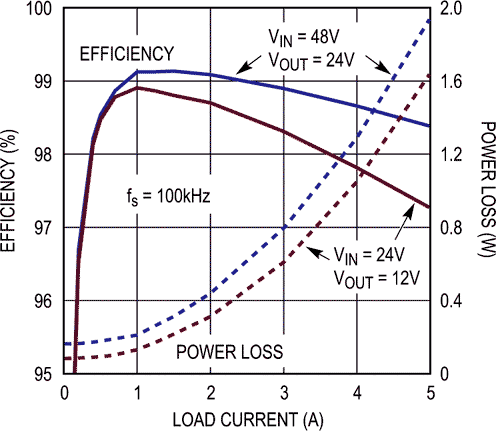 Efficiency and Power Loss vs. Load Current.
The LTC7820 is available in a 4 mm × 5 mm QFN-28 package. Extended and industrial temperature versions are available from –40 to 125 °C. The 1,000-piece price starts at $4.70 each.
DC2543A – LTC7820EUFD Demo Board | 2:1 Step-Down Charge Pump,
36 V ≤ VIN ≤ 60 V, VOUT = 0.5VIN @ Up to 20 A.
Thermal Performance at VIN = 48 V,
VOUT = 24 V, IOUT = 20 A TA = 23 °C,
No Airflow.
Summary of Features: LTC7820
Wide VIN Range: 6 V to 72 V, 80 V abs max
Up to 4000 W/in3 Power Density
Up to 99% Efficiency
Step-Down: 2:1 Ratio from VIN Up to 72 V
Dickson Converter Topology for 6:1 Step-Down Ratio
Step-Up: 1:2 Ratio from VIN Up to 36 V
Inverter: 1:1 Ratio from VIN Up to 36 V
Delivers Up to 500 W
Operating Frequency from 100 kHz to 1 MHz
Soft Switching Topology for Low EMI
Quad Powerful N-Channel MOSFET Gate Drivers
Input Current Sensing & Overcurrent Protection
Short-Circuit Protection with Programmable Timer & Retry
Power Good Output Signal
Available in a 4 mm × 5 mm 28-Pin QFN Package