Datasheet ON Semiconductor MC14528BDG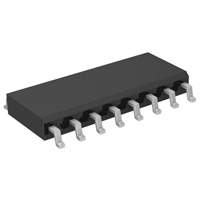 Dual Monostable Multivibrator
Datasheets
Download » Datasheet

, PDF, 127 Kb




Docket ↓

MC14528B
Dual Monostable
Multivibrator
The MC14528B is a dual, retriggerable, resettable monostable
multivibrator. It may be triggered from either edge of an input pulse,
and produces an output pulse over a wide range of widths, the duration
of which is determined by the external timing components,
CX and RX. http://onsemi.com Features Separate Reset Available
Diode Protection on All Inputs
Triggerable from Leading or Trailing Edge Pulse
Supply Voltage Range = 3.0 Vdc to 18 Vdc
Capable of Driving Two Low-power TTL Loads or One Low-power
Schottky TTL Load Over the Rated Temperature Range
This part should only be used in new designs where the pulse width
is < 10 s
Note: For designs requiring a pulse width > 10 s, please see
MC14538, which is pin-for-pin compatible
NLV Prefix for Automotive and Other Applications Requiring
Unique Site and Control Change Requirements; AEC-Q100
Qualified and PPAP Capable
This Device is Pb-Free and is RoHS Compliant MAXIMUM RATINGS (Voltages Referenced to VSS)
Symbol Value Unit VDD -0.5 to +18.0 V Vin, Vout -0.5 to VDD + 0.5 V Iin, Iout В± 10 mA Power Dissipation, per Package
(Note 1) PD 500 mW Ambient Temperature Range TA -55 to +125 В°C Storage Temperature Range Tstg -65 to +150 В°C Lead Temperature ...
Prices
Moldel Line
Series:
MC14528B
(3)
Manufacturer's Classification
Standard Logic > Arithmetic Functions
RadioLocman on the Social Web: