Datasheet Intersil HI-574A-883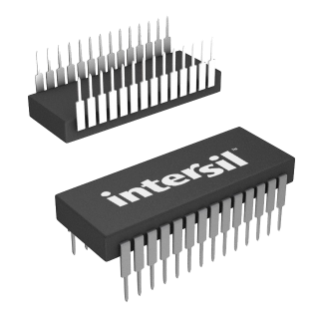 Complete, 12-Bit A/D Converters with Microprocessor Interface
Datasheets
Download » Datasheet

PDF, 286 Kb




Docket ↓

REVISIONS
LTR DESCRIPTION DATE (YR-MO-DA) APPROVED A Add two packages, C-5 and C-4. Make changes to table I, and throughout.
For case X, the dimensions have been changed and figure 2 has been
replaced with D-10 configuration. Inactivate devices 01XX and 02XX for new
design. Use M38510 device. Add a truth table. 90-01-24 M. A. Frye B Add device types 05, 06, 07, and 08. Add vendors CAGES 1ES66, OH9K9,
and 33256. Editorial changes throughout. 93-03-15 M. A. Frye C Add class V devices. Add Z package. Editorial changes throughout. 97-04-15 R. Monnin D Changes in accordance with NOR 5962-R368-97. – drw 97-06-23 Raymond Monnin E Change descriptive designator for case outline Z from GDFP2-F28 to
CDFP3-F28. Editorial changes throughout. Redrawn. -drw 99-12-30 Raymond Monnin F Sheet 7, table I, VIL test, change max limit from –0.8 V to 0.8 V. -drw 00-03-01 Raymond Monnin G Add radiation features and post irradiation limits. -drw 01-05-16 Raymond Monnin H Add device type 01 to the post irradiation limits in table I. -drw 02-07-10 Raymond Monnin J Sheet 6, table I, Integral linearity error test (ILE), post irradiation limits for
device types 01 and 02, subgroup 1, change from -1.0 LSB min to
-1.5 LSB min and from 1.0 LSB max to 1.5 LSB max. 03-04-25 Raymond Monnin K Redrawn. Update paragraphs to MIL-PRF-38535 requirements. -drw 15-08-13 Charles F. Saffle THE ORIGINAL FIRST SHEET OF THIS DRAWING HAS BEEN REPLACED REV
SHEET
REV K K K K K K SHEET 15 16 17 18 19 20 REV STATUS REV K K K K K K K K K K K K K K OF SHEETS SHEET 1 2 3 4 5 6 7 8 9 10 11 12 13 14 PMIC N/A PREPARED BY
Sandra B. Rooney STANDARD
MICROCIRCUIT
DRAWING DLA LAND AND MARITIME
COLUMBUS, OHIO 43218-3990
http://www.landandmaritime.dla.mil CHECKED BY
Charles E. Besore
APPROVED BY THIS DRAWING IS AVAILABLE
FOR USE BY ALL
DEPARTMENTS
AND AGENCIES OF THE
DEPARTMENT OF DEFENSE AMSC N/A Michael A. Frye
DRAWING APPROVAL DATE ...
Prices
Packaging
Parametrics
| | 5962-8512704XA | HI1-574ASD/883 | HI1-574ATD/883 |
| --- | --- | --- | --- |
| | | | |
| Analog Supply Voltage (max) (V) | 15 V | 15 V | 15 V |
| Analog Supply Voltage (min) (V) | 12 V | 12 V | 12 V |
| Max Conv Rate (kSPS) | 40 | 40 | 40 |
| Number of Channels | 1 | 1 | 1 |
| Power Consumption | 385 mW | 385 mW | 385 mW |
| Qualification Level | QML Class Q (military) | QML Class Q (military) | QML Class Q (military) |
| Resolution | 12 | 12 | 12 |
Eco Plan
Moldel Line
Series:
HI-574A-883
(3)
Manufacturer's Classification
Space & Harsh Environment > /883 > SAR A/D Converters
RadioLocman on the Social Web: