Datasheet Intersil HIP4082IPZ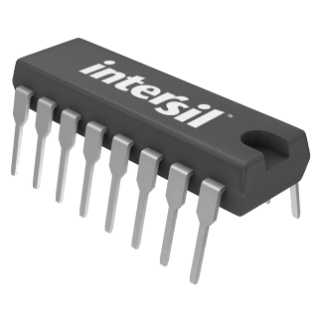 | | |
| --- | --- |
| Manufacturer | Intersil |
| Series | HIP4082 |
| Part Number | HIP4082IPZ |
80V/1.25A Peak Current Full Bridge FET Driver
Datasheets
Download » Datasheet

PDF, 634 Kb, Revision: 2017-11-01


HIP4082 Datasheet


Docket ↓

DATASHEET
HIP4082 FN3676
Rev 5.00
September 30, 2015 80V, 1.25A Peak Current H-Bridge FET Driver
The HIP4082 is a medium frequency, medium voltage
H-Bridge N-Channel MOSFET driver IC, available in 16 lead
plastic SOIC (N) and DIP packages.
Specifically targeted for PWM motor control and UPS
applications, bridge based designs are made simple and
flexible with the HIP4082 H-bridge driver. With operation up
to 80V, the device is best suited to applications of moderate
power levels. Features Independently Drives 4 N-Channel FET in Half Bridge or
Full Bridge Configurations Bootstrap Supply Max Voltage to 95VDC Drives 1000pF Load in Free Air at 50В°C with Rise and Fall
Times of Typically 15ns User-Programmable Dead Time (0.1 to 4.5пЃ­s) Similar to the HIP4081, it has a flexible input protocol for
driving every possible switch combination except those
which would cause a shoot-through condition. The
HIP4082's reduced drive current allows smaller packaging
and it has a much wider range of programmable dead times
(0.1 to 4.5пЃ­s) making it ideal for switching frequencies up to
200kHz. The HIP4082 does not contain an internal charge
pump, but does incorporate non-latching level-shift
translation control of the upper drive circuits. DIS (Disable) Overrides Input Control and Refreshes
Bootstrap Capacitor when Pulled Low This set of features and specifications is optimized for ...
Prices
Packaging
| | |
| --- | --- |
| Package | 16 Ld PDIP |
| Package Index | E16.3 |
Parametrics
| | |
| --- | --- |
| ChargePump | No |
| Description | 80V/1.25A Peak Current Full Bridge FET Driver |
| Fall Time | 9 ns |
| InputLogicLevel | 3.3V/TTL |
| Max Bootstrap Supply Voltage | 95 V |
| Operating Temperature Range | -55 to 125 |
| Peak Pull-down Current | 1.3 A |
| Peak Pull-up Current | 1.4 A |
| Qualification Level | Standard |
| Rise Time | 9 ns |
| Turn-Off Prop Delay | 55 ns |
| Turn-On Prop Delay | 75 ns |
| VBIAS (max) | 15 V |
Eco Plan
Moldel Line
Series:
HIP4082
(6)
Manufacturer's Classification
Space & Harsh Environment > Harsh Environment > Half, Full Bridge and Three Phase Drivers
RadioLocman on the Social Web: