Datasheet Intersil CS82C84AZ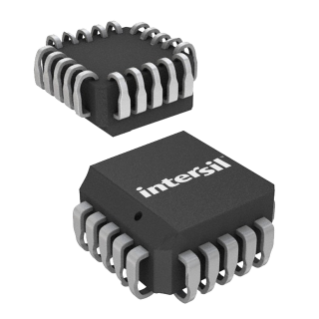 | | |
| --- | --- |
| Manufacturer | Intersil |
| Series | 82C84A |
| Part Number | CS82C84AZ |
CMOS Clock Generator Driver
Datasheets
Download » Datasheet

PDF, 605 Kb, Revision: 2017-12-05


82C84A Datasheet


Docket ↓

DATASHEET
82C84A FN2974
Rev 4.00
Sep 9, 2015 CMOS Clock Generator Driver
The Intersil 82C84A is a high performance CMOS Clock
Generator-driver which is designed to service the requirements
of both CMOS and NMOS microprocessors such as the
80C86, 80C88, 8086 and the 8088. The chip contains a crystal
controlled oscillator, a divide-by-three counter and complete
"Ready" synchronization and reset logic.
Static CMOS circuit design permits operation with an external
frequency source from DC to 25MHz. Crystal controlled
operation to 25MHz is guaranteed with the use of a parallel,
fundamental mode crystal and two small load capacitors.
All inputs (except X1 and RES) are TTL compatible over
temperature and voltage ranges.
Power consumption is a fraction of that of the equivalent
bipolar circuits. This speed-power characteristic of CMOS
permits the designer to custom tailor his system design with
respect to power and/or speed requirements. Features Generates the System Clock For CMOS or NMOS
Microprocessors Up to 25MHz Operation Uses a Parallel Mode Crystal Circuit or External
Frequency Source Provides Ready Synchronization Generates System Reset Output From Schmitt Trigger
Input TTL Compatible Inputs/Outputs Very Low Power Consumption Single 5V Power Supply Operating Temperature Ranges ...
Prices
Packaging
| | |
| --- | --- |
| Package | 20 Ld PLCC |
| Package Index | N20.35 |
| Peak Temperature | 250°C |
Parametrics
| | |
| --- | --- |
| Features | Generates the System Clock For CMOS or NMOS Microprocessors, Up to 25MHz Operation, Uses a Parallel Mode Crystal Circuit or External Frequency Source, Provides Ready Synchronization |
| Qualification Level | QML Class Q (military) |
Eco Plan
Moldel Line
Series:
82C84A
(7)
Manufacturer's Classification
Space & Harsh Environment > Harsh Environment > Microprocessors and Peripherals
RadioLocman on the Social Web: