Datasheet Intersil HS1-26CLV32RH-8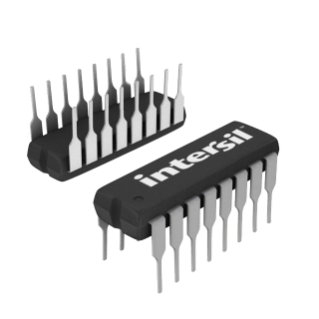 | | |
| --- | --- |
| Manufacturer | Intersil |
| Series | HS-26CLV32RH |
| Part Number | HS1-26CLV32RH-8 |
Radiation Hardened 3.3V Quad Differential Line Receiver
Datasheets
Download » Datasheet

PDF, 332 Kb, Revision: 2017-11-08


HS-26CLV32RH, HS-26CLV32EH Datasheet


Docket ↓

DATASHEET
HS-26CLV32RH, HS-26CLV32EH FN4907
Rev 6.00
February 6, 2017 Radiation Hardened 3.3V Quad Differential Line Receivers Features The Intersil HS-26CLV32RH, HS-26CLV32EH are radiation
hardened 3.3V quad differential line receivers designed for
digital data transmission over balanced lines, in low voltage,
RS-422 protocol applications. Radiation hardened CMOS
processing assures low power consumption, high speed, and
reliable operation in the most severe radiation environments. Electrically screened to SMD # 5962-95689 QML qualified per MIL-PRF-38535 requirements 1.2 micron radiation hardened CMOS
-Total dose . 300krad(Si) (max)
-Single event upset LET . 100MeV/mg/cm2)
-Single event latch-up immune The HS-26CLV32RH, HS-26CLV32EH have an input sensitivity
of 200mV (typical) over a common-mode input voltage range
of -4V to +7V. The receivers are also equipped with input
fail-safe circuitry, which causes the outputs to go to a logic "1"
when the inputs are open. The device has unique inputs that
remain high impedance when the receiver is disabled or
powered-down, maintaining signal integrity in multi-receiver
applications. Low stand-by current . 13mA (max) Operating supply range . 3.0V to 3.6V Enable input levels .VIH > 0.7 x VDD; VIL < 0.3 x VDD CMOS output levels . .VOH > 2.55V; VOL < 0.4V Input fail-safe circuitry Specifications for Rad Hard QML devices are controlled by the
Defense Logistics Agency Land and Maritime (DLA). The SMD
numbers listed must be used when ordering. High impedance inputs when disabled or powered-down Full -55В°C to +125В°C military temperature range Related Literature Pb-free (RoHS compliant) For a full list of related documents, visit our website
-HS-26CLV32RH and HS-26CLV32EH product pages ENABLE Applications Line receiver for MIL-STD-1553 serial data bus ENABLE DIN DIN + -DOUT CIN CIN BIN BIN AIN AIN + + + -COUT -BOUT -AOUT FIGURE 1. LOGIC DIAGRAM FN4907 Rev 6.00
February 6, 2017 Page 1 of 6 HS-26CLV32RH, HS-26CLV32EH Ordering Information ...
Prices
Packaging
| | |
| --- | --- |
| Package | 16 Ld SBDIP |
| Package Index | D16.3 |
Parametrics
| | |
| --- | --- |
| Class | V, Q, /PROTO |
| DLA SMD | 5962-95689 |
| Description | Radiation Hardened 3.3V Quad Differential Line Receiver |
| High Dose Rate (HDR) krad(Si) | 300 |
| Operating Temperature Range | -55 to 125 |
| Qualification Level | QML Class Q (military), QML Class V (space) |
| SEL (MeV/mg/cm2) | 100 |
Eco Plan
Other Options
Moldel Line
Series:
HS-26CLV32RH
(9)
Manufacturer's Classification
Space & Harsh Environment > Rad Hard Analog > RH Interface
Other Names:
HS126CLV32RH8, HS1 26CLV32RH 8
RadioLocman on the Social Web: