Datasheet Mini-Circuits AVA-183A+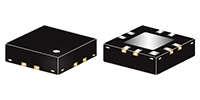 | | |
| --- | --- |
| Manufacturer | Mini-Circuits |
| Series | AVA-183A+ |
| Part Number | AVA-183A+ |
Ultra-Wideband, Flat Gain Microwave MMIC Amplifier, 5 to 18 GHz
Datasheets
Download » Datasheet

PDF, 1.1 Mb


Full Version


Docket ↓

Wideband, Microwave Monolithic Amplifier
50Ω AVA-183A+ 5 to 18 GHz The Big Deal Surface Mount Amplifier up to 18 GHz Integrated matching, DC Blocks and bias circuits Superior Value CASE STYLE: DQ849 Product Overview The AVA-183A+ is a surface mount, microwave amplifier fabricated using InGaAs PHEMT technology and
is a fully integrated gain block up to 18 GHz. It is packaged in Mini-Circuits industry standard 3x3 mm
MCLP package, which provides excellent RF and thermal performance. The AVA-183A+ integrates the
entire matching network with the majority of the bias circuit inside the package, reducing the need for
complicated external circuits. This approach makes the AVA-183A+ extremely flexible and enables simple,
straightforward use. Key Features
Feature Advantages Wideband, 5 to 18 GHz Broad frequency range supports a wide array of applications from microwave radio and radar , to
military communications and countermeasures. Excellent Gain Flatness Typical В±1.2 dB gain flatness across the entire frequency range minimizes the need for external
equalizer networks making it a great fit for instrumentation and EW applications. High Isolation With reverse isolation of 31-42 dB (17-23 dB directivity), the AVA-183A+ is an excellent choice for
buffering broadband circuits. It is an ideal LO driver amplifier and provides designers system flexibility and margin when integrating cascaded RF components. Single +5V Supply No hassle associated with amplifiers using dual supply; such as power supply sequencing. Integrated output bias-tee, simplifies layout & reduces cost. Manufacturability MSL1 and ESD Class1A (HBM) ratings minimize special handling on production lines. Notes
A. Performance and quality attributes and conditions not expressly stated in this specification document are intended to be excluded and do not form a part of this specification document.
B. Electrical specifications and performance data contained in this specification document are based on Mini-Circuit's applicable established test performance criteria and measurement instructions.
C. The parts covered by this specification document are subject to Mini-Circuits standard limited warranty and terms and conditions (collectively, "Standard Terms"); Purchasers of this part are entitled
to the rights and benefits contained therein. For a full statement of the Standard Terms and the exclusive rights and remedies thereunder, please visit Mini-Circuits' website at www.minicircuits.com/MCLStore/terms.jsp Mini-Circuits ® www.minicircuits.com P.O. Box 350166, Brooklyn, NY 11235-0003 (718) 934-450 ...
Prices
Status
| | |
| --- | --- |
| Lifecycle Status | Currently not available |
Packaging
Parametrics
| | |
| --- | --- |
| Export Info | ECCN# EAR99 |
| Test Board | TB-547-2+ |
Eco Plan
Other Names:
AVA183A+, AVA 183A+
RadioLocman on the Social Web: