Datasheet Mini-Circuits AVM-273HP+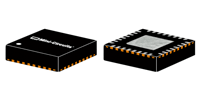 | | |
| --- | --- |
| Manufacturer | Mini-Circuits |
| Series | AVM-273HP+ |
| Part Number | AVM-273HP+ |
Wideband, Microwave MMIC Amplifier, 0.5W Pout, 13 to 26.5 GHz
Datasheets
Download » Datasheet

PDF, 2.1 Mb


Full Version


Docket ↓

Wideband, Microwave, 0.5W Monolithic Amplifier
50Ω AVM-273HP+ 13 to 26.5 GHz The Big Deal Wideband 13 to 26.5 GHz
Output power up to +27dBm
Excellent directivity, 43 dB typ. @ 20 GHz
Unconditionally stable
Excellent gain flatness, В±1 dB
Sequencing and DC Control module (VCM-1+) is available CASE STYLE: DG1677-1 Product Overview Mini-Circuits AVM-273HP+ is a three stage balanced, wideband monolithic amplifier delivering up to 0.5W
power and operating over 13 to 26.5 GHz. It is designed using PHEMT technology and is unconditionally
stable. Its outstanding isolation enables it to be used as a wideband isolation amplifier or buffer amplifier
in a variety of microwave systems including point to point radios, military EW and radar, DBS, and VSAT. Key Features
Feature Advantages Wideband Wide frequency coverage up to 26.5 GHz supports many microwave applications. Pout up to +27 dBm Can be used as a low-cost driver for high power amplifiers. Excellent active directivity, 43 dB @ 20
GHz (directivity = isolation – gain) Can be used as an inter-stage isolation amplifier, minimizing interaction of adjacent
components. Unconditionally stable Eliminates the need for any compensating network to prevent unintended oscillation. Small package Small size for high power with low inductance, repeatable transitions, and excellent thermal contact to PCB. Notes
A. Performance and quality attributes and conditions not expressly stated in this specification document are intended to be excluded and do not form a part of this specification document.
B. Electrical specifications and performance data contained in this specification document are based on Mini-Circuit's applicable established test performance criteria and measurement instructions.
C. The parts covered by this specification document are subject to Mini-Circuits standard limited warranty and terms and conditions (collectively, "Standard Terms"); Purchasers of this part are entitled
to the rights and benefits contained therein. For a full statement of the Standard Terms and the exclusive rights and remedies thereunder, please visit Mini-Circuits' website at www.minicircuits.com/MCLStore/terms.jsp Mini-Circuits ® www.minicircuits.com P.O. Box 350166, Brooklyn, NY 11235-0003 (718) 934-4500 sales@minicircuits.com Page 1 of 7 Wideband, Microwave, 0.5W Monolithic Amplifier 13-26.5 GHz Product Features Gain, 13 dB typ. Output Power, up to +27 dBm typ. Excellent directivity, 43 dB typ. at 20 GHz Unconditionally Stable Aqueous washable; 5 mm x 5 mm SMT package
CASE STYLE: DG1677-1 Typical Applications AVM-273HP+ Poi ...
Prices
Status
| | |
| --- | --- |
| Lifecycle Status | Currently not available |
Packaging
Parametrics
| | |
| --- | --- |
| Export Info | ECCN# EAR99 |
| Test Board | TB-715-5V |
Eco Plan
Other Names:
AVM273HP+, AVM 273HP+
RadioLocman on the Social Web: