Datasheet Mini-Circuits SAV-541+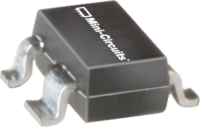 | | |
| --- | --- |
| Manufacturer | Mini-Circuits |
| Series | SAV-541+ |
| Part Number | SAV-541+ |
LOW NOISE AMPL / SM / RoHS
Datasheets
Download » Datasheet

PDF, 1.2 Mb


Datasheet SAV-541+ Full Version


Docket ↓

Ultra Low Noise, Medium Current E-PHEMT 0.45-6GHz Product Features Low Noise Figure, 0.5 dB Gain, 17 dB at 2 GHz High Output IP3, +33 dBm Output Power at 1dB comp., +20 dBm High Current, 60mA Wide bandwidth External biasing and matching required May be used as replacement a,b for Avago ATF-54143 SAV-541+
CASE STYLE: MMM1362 Typical Applications +RoHS Compliant
The +Suffix identifies RoHS Compliance. See our web site
for RoHS Compliance methodologies and qualifications Cellular ISM GSM WCDMA WiMax WLAN UNII and HIPERLAN General Description SAV-541+ is an ultra-low noise, high IP3 transistor device, manufactured using E-PHEMT* technology
enabling it to work with a single positive supply voltage. It has outstanding Noise Figure, particularly below 2.5 GHz, and when combining this noise figure with high IP3 performance in a single device it makes
it an ideal amplifier for demanding base station applications. We offer these units assembled into a complete module, 50Ω in/out, noise matched and fully specified. For more information please see our TAMP
family of models on our web site. simplified schematic and pin description
DR AIN DR AIN 1 4 S OUR C E G AT E
S OUR C E 2 3 G AT E SOT-343 (SC-70) PACKAGE S OUR C E Function Pin Number Source 2&4 Description Gate 3 Gate used for RF input Drain 1 Drain used for RF output Source terminal, normally connected to ground * Enhancement mode Pseudomorphic High Electron Mobility Transistor.
a. Suitability for model replacement within a particular system must be determined by and is solely the responsibility of the customer based on, among other things, electrical performance criteria, stimulus conditions, application, compatibility with other components and environmental conditions and stresses.
b. The Avago ATF-54143 part number is used for identification and comparison purposes only. Notes
A. Performance and quality attributes and conditions not expressly stated in this specification document are intended to be excluded and do not form a part of this specification document.
B. Electrical specifications and performance data contained in this specification document are based on Mini-Circuit's applicable established test performance criteria and measurement instructions.
C. The parts covered by this specification document are subject to Mini-Circuits standard limited warranty and terms and conditions (collectively, "Standard Terms"); Purchasers of this part are entitled
to the rights and benefits contained therein. For a full statement of the Standard Terms and the exclusive rights and remedies thereunder, please vi ...
Prices
Status
| | |
| --- | --- |
| Lifecycle Status | Currently not available |
Packaging
Parametrics
| | |
| --- | --- |
| Export Info | ECCN# EAR99 |
| Test Board | TB-471+ |
Eco Plan
Other Names:
SAV541+, SAV 541+
RadioLocman on the Social Web: