Datasheet Intersil ISL72991RHQF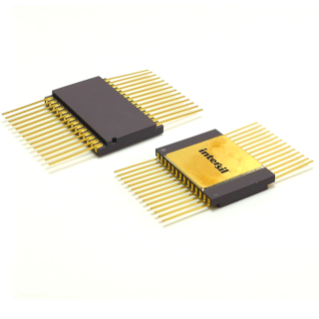 Radiation Hardened Low Dropout Adjustable Negative Voltage Regulator
Datasheets
Download » Datasheet

PDF, 437 Kb, Revision: 2017-12-21


ISL72991RH Datasheet


Docket ↓

DATASHEET
ISL72991RH FN9054
Rev.6.00
Apr 14, 2017 Radiation Hardened Low Dropout Adjustable Negative Voltage Regulator
The radiation hardened ISL72991RH is a low dropout
adjustable negative regulator with an output voltage range of
-2.25V to -26V. The device features a 1A output current
capability, an adjustable current limit pin (ILIM), and a
shutdown pin (SD) for easy on/off control. Features The device incorporates unique circuitry that enables precision
performance across the -55В°C to +125В°C temperature range
and post-irradiation. Specifications across the full temperature
range include an internal reference voltage of -1.25V +40mV/50mV (maximum), line regulation of В±25mV (maximum), and
load regulation of В±15mV (maximum). The reference voltage is
the ADJ to GND voltage. Wide input voltage range -3V to -30V Constructed with the Intersil dielectrically isolated Rad Hard
Silicon Gate (RSG) BiCMOS process, these devices are immune
to single event latch-up and have been specifically designed to
provide highly reliable performance in harsh radiation
environments. Dropout voltage (1A) . 1V (maximum) Applications Radiation environment
-SEL/SEB LETTH (VS = -30V) 86.4MeVcm2/mg
-Total dose, high dose rate . 300krad(Si) Post switching power supplies DC/DC converters Latch-up immune DI process Nominal output voltage range . -2.25V to -26V Line regulation В±25mV (maximum) Load regulation .В±12mV (typ); В±15mV (maximum) Dropout voltage (100mA) 0.2V (typ); 0.3V (maximum) Minimum load current . 3.0mA TTL input-level shutdown (SD); low = on Operating temperature range . .-55В°C to +125В°C For a full list of related documents, visit our website
-ISL72991RH product page -1.244 800 -1.245 790 ISL72991RH R1 COUT RCL R2 ADJ -1.246 780
ISCL (RCL = 3.7kО©)
770 -1.247 CC R1 R2 VREF (V) VOUT VOUT 760 -1.248 ...
Prices
Packaging
| | |
| --- | --- |
| Package | 28 Ld CFP |
| Package Index | K28.A |
Parametrics
| | |
| --- | --- |
| Class | V, Q, /PROTO |
| DLA SMD | 5962-02503 |
| Description | Radiation Hardened Low Dropout Adjustable Negative Voltage Regulator |
| High Dose Rate (HDR) krad(Si) | 300 |
| Low Dose Rate (ELDRS) krad(Si) | Report Available |
| Operating Temperature Range | -55 to 125 |
| Qualification Level | QML Class Q (military), QML Class V (space) |
| SEL (MeV/mg/cm2) | SEL free |
Eco Plan
Moldel Line
Series:
ISL72991RH
(4)
Manufacturer's Classification
Space & Harsh Environment > Rad Hard Power > RH Linear Regulation
RadioLocman on the Social Web: