New sensors simplify thermal profiling of portable consumer electronics while enabling longer battery life, smaller form factors
Texas Instruments Incorporated unveiled the industry's smallest, most power-efficient digital temperature sensor. The TMP103 consumes 97 percent less power and is 75 percent smaller than the next closest competitor. It also provides global read/write functionality to ease thermal profiling. Using a single command, eight TMP103 devices mounted on the board can simultaneously identify and monitor hotspots. The TMP103 simplifies thermal profiling while enabling longer battery life and smaller form factors for portable consumer electronics such as smartphones, tablets, laptops and netbooks.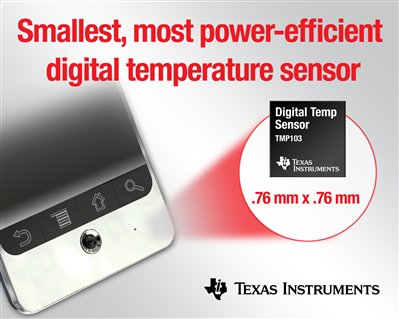 Key features and benefits:
Draws a maximum of 1 uA while in shutdown mode and 3 uA while in active mode to extend battery life. In its active state, the TMP103 draws approximately half the power of the next closest competitor in shutdown state.
Measures only 0.76 mm x 0.76 mm, making it suitable for high-density, space-constrained applications requiring multiple temperature measurement zones.
Global read/write functionality reduces software development and processor loading. With a single command, the software can poll up to eight devices, reducing MIPS and bandwidth on the I2C bus.
Complements TI's extensive portfolio of analog and embedded processing products for the portable consumer electronics market, including battery management, interface, audio codecs and wireless connectivity.
Tools and support
An evaluation module is available now for the TMP103 for $49. An IBIS model to verify board signal integrity requirements is also available.
Package, availability and pricing
The TMP103 is available now in a 0.76-mm × 0.76-mm WCSP package for a suggested retail price of $0.39 in 1,000-unit quantities.