Out-of-Box, PIC24-based Platform Makes It Easy for Educators to Teach Microchip in the Classroom; Includes Two Boards and Free Software Download of 10 Unique Labs
Microchip Technology Inc., a leading provider of microcontroller, analog and Flash-IP solutions, and Stratford Digital, today announced a full, turnkey, 16-bit microcontroller development platform that enables educators to quickly and easily integrate Microchip into their curriculum. The PIC24-based platform includes two boards—the MX PIC24 Module (part # TSTR001) and MX Educational Target Board (part # TSTR002)—and a free software download of an Educator's Lab Manual, including 10 unique labs on topics ranging from "Intro to Microcontrollers," to timers, Pulse-Width Modulation and Analog-to-Digital Converters, to power management. Microchip will be demonstrating the platform at its booth, # 647, at the American Society of Engineering Education (ASEE) Annual Conference & Exhibition June 26 – 29 in Vancouver, B.C.
The MX PIC24 Module includes an onboard PIC24FJ256GB110 16-bit microcontroller from Microchip that features 256 KB Flash program memory and 16 KB RAM. The module also includes 32 KB on-chip EEPROM and an onboard debugger/programmer. The MX Educational Target Board accepts any MX module and includes a breadboard area, plus SPI, I2C, RS-232, CAN and JTAG ports, along with four LEDs. General tools needed for the Lab Manual, such as Microchip's MPLAB IDE v.8.63, are also included.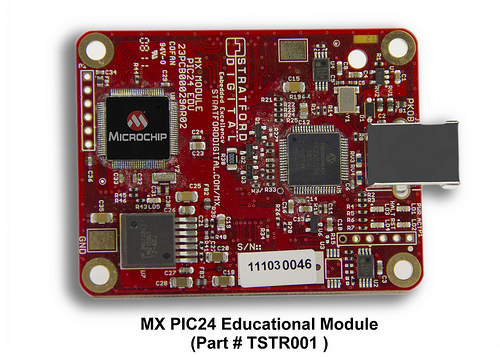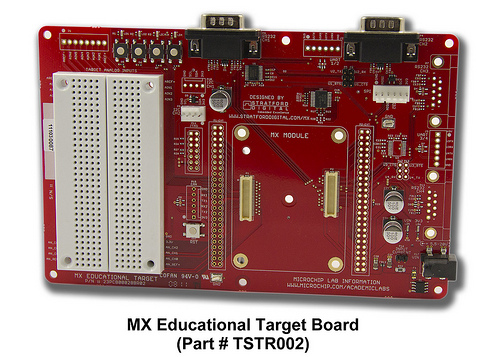 "With the MX educational modules from Stratford Digital, Microchip continues to make it easy for educators to teach PIC® microcontrollers in the classroom," said Mitch Little, vice president of Worldwide Sales and Applications with Microchip Technology Inc. "This PIC24-based hardware and 10 accompanying labs will help educators integrate Microchip into their classrooms quickly, easily and inexpensively."
"As a Microchip design partner, I interact with many levels of design professionals across many organizations. I am concerned with the quality of new engineers and their knowledge of basic embedded design issues. Educators can use the new MX Educational Target Board and PIC24F Educational Module solution to accelerate new-course introductions," said James Morrison, chief executive officer with Stratford Digital. "Rather than spending countless hours developing and updating courses to keep up with the demands of today's industry, this new MX Module Series platform and full set of lab materials will enable educators to focus on what is important—teaching our future engineers."
Pricing & Availability
The MX PIC24 Module (part # TSTR001, $80) and MX Educational Target Board (part # TSTR002, $85) can be purchased from Microchip today.