Seiko Epson Corporation announced the commercial development of a new inertial measurement unit (IMU) named the S4E5A0A0. The new IMU provides stable, accurate measurement capability and among the lowest power consumption and smallest form factor in its class.
IMUs are devices that can accurately sense inertial motion, from slight inclinations to large movements. Traditionally, IMUs were embedded in specialized equipment for aerospace applications and other uses that require highly accurate, stable measurement of inertial measurement. Then, several years ago, IMUs developed for industrial applications began finding their way into a variety of products in this growing new market. However, these industrial IMUs not only needed to be more accurate and stable, they also needed to be smaller and draw less power, to make them easier to embed in products in this market.
Recognizing this need, Epson, a leader in the crystal device industry, set out to develop a new IMU, using an original approach that combined its patented QMEMS quartz gyroscopic (angular rate) sensors with the semiconductor technology and know-how it developed for GPS and other positioning devices.
Epson's development effort culminated in the commercialization of the S4E5A0A0, an IMU that offers outstanding measurement accuracy and stability while being among the smallest and most energy efficient IMUs in its class. The compact S4E5A0A0 module is 24 × 24 × 10 mm and consumes 30 mA when operating at 3.3V.
The IMU includes triple gyroscopes and a tri-axis accelerometer, for six degrees of freedom. The gyroscope provides high accuracy and stability (±300 deg/s), while the accelerometer offers a dynamic range of ±3 G. It offers excellent angular rate measurement performance (angle random walk: 0.24deg/√hr) and stability (gyro bias instability: 6 deg/h). The device is also equipped with industry-standard SPI and UART interfaces.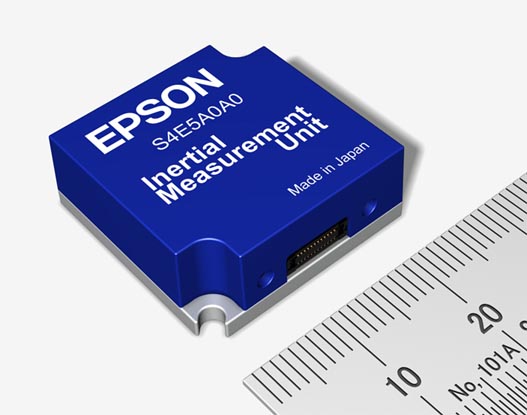 Features and specifications of the S4E5A0A0 IMU
Small and lightweight

External dimensions: 24 × 24 × 10 mm
Weight: 7grams

Low power consumption
High-accuracy, high-stability measurement performance

Angle random walk: less than 0.24 deg/√hr (accuracy)
Gyro bias stability: less than 6 deg/hr (stability)
Initial bias error: ±0.5 deg/s (1σ) (static stability)

Comes standard with SPI and UART digital serial interfaces
Main current applications
Motion analysis & control
Control of moving objects
Navigation systems
Vibration control and stabilization
Examples of potential industrial applications:
High-precision measuring instruments
Vehicle dead reckoning and vibration analysis
Motion analysis of vehicles themselves
Satellite antenna and camera tracking and stability control
Vibration sensing in control systems for machine tools