Torex Semiconductor Ltd. has developed new 1A high-speed LDO regulators which can operate with input voltages down to 0.5V.
The XC6603/XC6604 series are sister products to the 1A high-speed XC6602 LDO regulator that is capable of operation from a low voltage of 0.5V and has low ON resistance. This series is ideal for applications that require high-efficiency and large-current output in a low voltage range.
With the help of a bias voltage that can be set between 2.5V and 6.0V, the XC6603/XC6604 operates with input voltages from 0.5V to 3.0V and is readily available with fixed output voltages from 0.5V to 1.8V in 0.1V steps.
| | |
| --- | --- |
| | |
| USP-6C package | SOT-26W package |
Thanks to its integrated N-ch driver transistor, the minimum input and output voltages of the XC6603/XC6604 can be much lower than more traditional LDOs with their integrated P-ch transistors. Another advantage of the XC6603/XC6604 integrated N-ch driver transistor is that it dramatically reduces the on-resistance at low output voltages, leading to dropout voltages as low as 162mV @ 1A with VOUT=1.2V (VBIAS=3.3V). This makes the XC6603/XC6604 ideally suited for low input/output voltage applications which require high output current and extended battery life. An external 2.2μF ceramic output capacitor can be connected to obtain a stable output.
A soft-start circuit prevents rush current from VIN to VOUT when the IC is started and can limit voltage fluctuations on the VIN line due to rush current. The soft-start time of the XC6604 series is set internally to 430 μsec (TYP.), but in the XC6603 series this can be extended with an external capacitor (CSS).
The current limit value of the over-current protection circuit of each series is set internally to 1.3A (TYP.), but in the XC6604 series this can be set as needed for the required current range using an external resistor (RLIM).
Other protection functions include an over-current protection circuit (fold-back), thermal shutdown circuit (TSD) and an Under Voltage Lockout circuit (UVLO).
A small USP-6C or SOT-26W package can be selected as appropriate for the application, and this is an environment friendly product that complies with the EU RoHS directive and is Pb free.
Typical XC6602/3/4 Application Circuit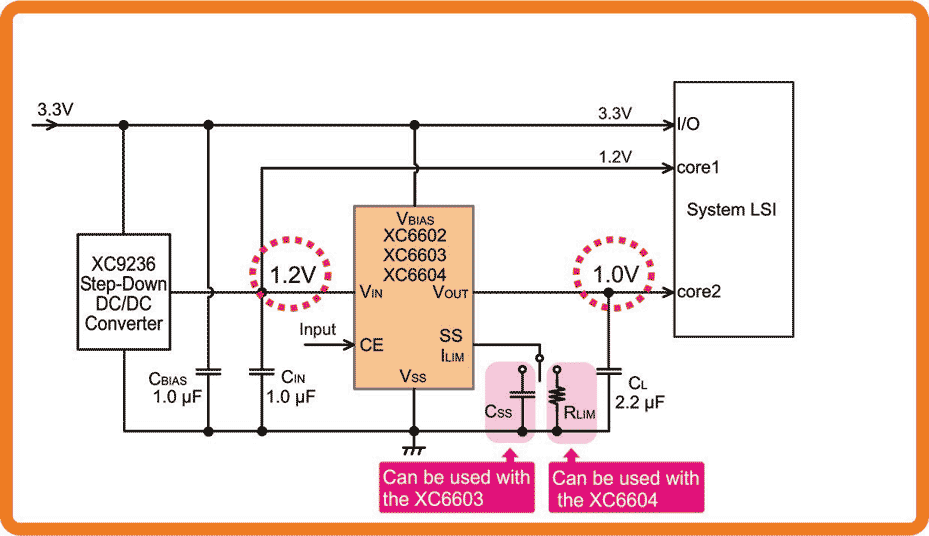 XC6603/XC6604 Series Features
1A high-speed LDO regulator using an N-channel MOSFET driver
Ultra-low ON resistance and a dropout voltage of 162mV at 1A (VOUT=1.2V, VBIAS=3.3V)
CL discharge function and soft-start function (with external adjustment function: XC6603 series)
Over-current protection circuit (with external adjustment function: XC6604 series