Infineon's second generation Embedded Power TLE983x product family is a System On a Chip (SOC) that takes integration to the next level by offering a powerful 8-bit MCU, a smart LIN-based relay driver, low- and high-side switches and a voltage regulator on a single chip. The monolithic solution is approximately 50% smaller than predecessor devices (TLE78xx). This first generation of Embedded Power relay switches (TLE78xx) comprised an embedded MCU and LIN transceiver in a single MCM package.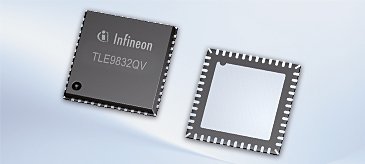 The TLE983x product family, however, leverages Infineon's 130nm Smart Power technology to offer unmatched levels of integration in small VQFN-48 packages (7mm x 7mm). Other highlights include 16-bit equivalent performance with an 8-bit microcontroller (up to 10 Whetstone MIPS at 40MHz), scalable Flash memory capabilities (36KB to 64KB) and a number of high voltage monitoring pins. TLE983x devices deliver all the functionality for relay-driven motor control applications and address a wide range of LIN-slave applications where space is a key priority, enabling small form factors and a low number of external components.
Automotive solution designers, in particular, will appreciate the board space savings, reduced circuit complexity and programmable power consumption with sleep mode currents down to 25µA. Flexible clock management and selective activation of peripheral functions can reduce current consumption further. Infineon and third-party vendors provide a complete development toolchain including evaluation boards, IDEs, compilers, debuggers and DAVE™ (Digital Application Virtual Engineer) support for automatic code generation.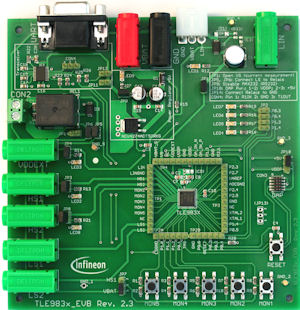 TLE983x Evaluation Kit
Features
8051-based MCU @ 40MHz
24kB to 64kB Flash memory
4kB EEPROM emulation
On-chip debug interface (2-wire)
LIN transceiver compliant with LIN standards 1.3, 2.0, 2.1 and SAE J2602
Voltage regulator supplying internal and external circuits (5V)
Protected high-side (1) & low-side switches (2) with PWM capability
10-bit ADC converter (8 channels) indent right/ remove
CAPCOM6 (PWM) for external motor control
Wide operating voltage range (3.0V to 40V)
Applications
Window lifts
Wipers
Power seats
Sun roofs
Fan/blower controls
Key pad interfaces
Switch panel interfaces