Central Semiconductor introduces the CMSH3-40FL, 3.0 amp, 40 volt Schottky rectifier packaged in the low profile SMBFL case. In comparison with the standard SMB package, the SMBFL provides a 58% lower profile and fits on the existing SMB mounting pads avoiding the costly redesign of the circuit board.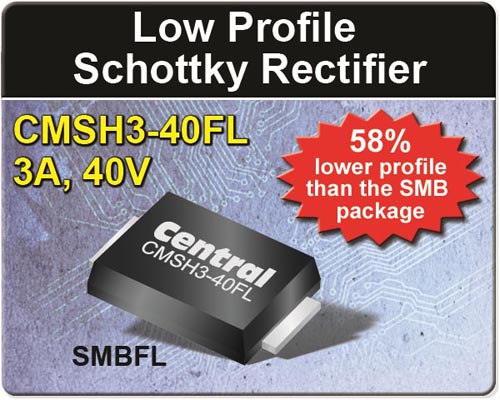 The CMSH3-40FL is ideal for reverse polarity protection, voltage clamping, DC-DC output rectification, and power management applications. The low forward voltage of the CMSH3-40FL (0.46V) makes it extremely beneficial for portable battery powered products.
Pricing for the CMSH3-40FL starts at US$0.22 each for 5,000 pieces on tape and reel. Samples are available upon request.