World-leading, 2 mA Low-power Consumption Enables Long Battery Life and Miniaturization.
Microsemi Corporation announced the availability of a new ultra low power (ULP) radio frequency (RF) transceiver for short-range wireless applications where power consumption is of utmost importance. The ZL70250 sets the bar in terms of low power consumption with only 2 milliamps (mA) of current required to transmit and receive data, enabling extremely long battery life and miniaturization. These two features are particularly important for applications using energy harvesting and battery-powered wireless sensor networks.

The new ULP radio operates in unlicensed frequency bands between 795 and 965 megahertz (MHz) and delivers a data rate of 186 kilobits per second (kbps) to support a wide variety of sensor applications. All components are integrated into a single chip scale package (CSP) with the exception of a bias resistor and a supply decoupling capacitor.
Short-range sensor networks can be used for wireless communication in factories, industrial complexes and commercial buildings, where they improve manufacturing efficiency, safety, reliability, automation and security. Applications include ambient/environmental monitoring, industrial building automation and security, access control, structural health monitoring, tank level monitoring and flexible smart cards. Miniaturization is also a key-enabling factor for applications where the weight as well as the size is a constraint. Examples of industry segments that can benefit from an ultra compact wireless sensor include wireless wearable medical monitoring, wireless sensors for aircrafts or vehicles, and traceability tags.
Until recently, batteries such as AA cells have provided a powering solution, but replacing them when they run down can be expensive, especially when sensors are installed behind walls or in other unreachable locations. With the growth in wireless sensor networks, designers need innovative solutions that can be used in miniaturized, ultra compact sensors using small coin cell batteries.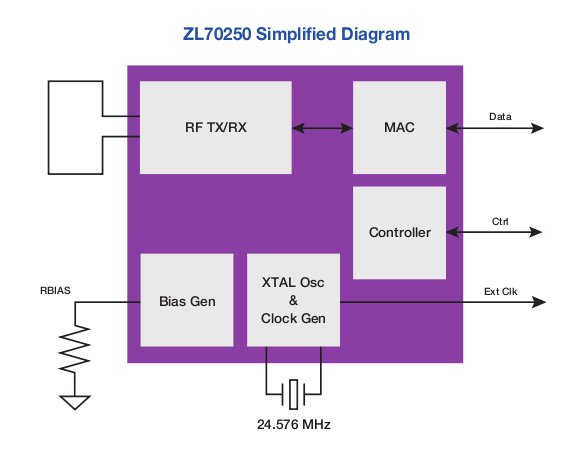 Due to the ZL70250 radio's low peak current and voltage supply (1.1V to 1.9V) system vendors developing low power sensor nodes can target a variety of short-range wireless sensor networks across several industry segments. With its 2 mm x 3 mm die size the ZL70250 CSP can be integrated together with other compact integrated circuits in multi-chip modules (MCM).

Key short range, miniaturized wireless applications for ZL70250 CSP radio include:
Smart "thin" card based sensors
Ambient monitoring
Building automation and home security
Indoor live stock monitoring
Medical wearable sensors with continuous monitoring
Animal lab sciences
Package transport tracking sensors (e.g. pharmaceutical)
ULP sensor networks for naval or commercial avionics applications
Military sensors for modern soldiers
Compact sensors based on rechargeable solid state thin film battery
Microsemi is providing development support tools for the ZL70250 CSP solution. Included in the tools are Application Development Kits (ADK), a low power wireless communication software code starter for point to point connections and reference designs of wireless sensors based on CR-2032 coin cell batteries.