Holt Integrated Circuits announced the introduction of a family of CAN transceivers capable of operating in temperatures from −55 °C to 200 °C. The devices are ARINC 825 / ISO 11898-5 compliant and are targeted at high temperature avionics and industrial applications such as aircraft braking systems, engine controls and down-hole drilling.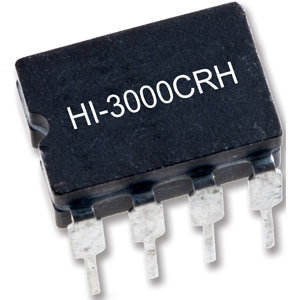 The HI-3000H supports two modes of operation: Normal Mode and Standby Mode. The Standby Mode is a very low-current mode which continues to monitor bus activity, allowing the external controller to manage wake-up. Superior common-mode receiver performance makes the device especially suitable for applications where ground reference voltages may vary from point to point over long distances along the CAN bus. In addition, the HI-3000H provides a SPLIT pin to give an output reference voltage of VDD/2.
The device also features a TXD dominant time-out feature to protect the bus from being driven into a permanent dominant state if the TXD pin becomes permanently low due to application failure.
The HI-3001H is identical to the HI-3000H except the SPLIT pin is substituted with a VIO supply voltage pin. This allows the HI-3001H to interface digital I/O directly with 3.3V controllers.
Operation up to 200 °C is specified in an 8-pin CERDIP package, whereas plastic SOIC package options specify operation up to 175 °C.