The Anybus NP40 is a new network processor from HMS Industrial Networks that handles communication between an industrial device and any industrial network. The new processor is the core of HMS's Anybus CompactCom 40-series in chip, brick and module formats. It is designed for demanding applications, especially targeting real-time industrial Ethernet.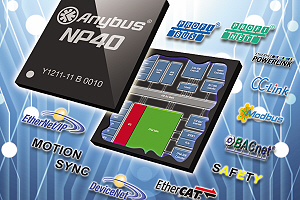 Flexibility: One hardware platform, any network
The NP40 comes with support for all major Industrial Ethernet and Fieldbus networks. This means that a single hardware platform can support several different networks by simply downloading new firmware. Consequently, there is no need to start a development project for each new network.
The new technology makes life easier for device manufacturers since they can install a communication interface into a product and then simply download the firmware they need before sending their products off to the end customer.
Performance: For demanding applications – Enabling motion and sync
The NP40 enables very low latency, down to a few microseconds. It practically allows for "zero delay" between the network and host API making it possible to support high-performance applications that require synchronization or motion profiles.
"What we have seen over the past few years is that industrial Ethernet is now demanding more performance and a new architecture," says Jörgen Palmhager, Chief Operating Officer at HMS. "The new industrial Ethernet networks are getting more and more specialized which requires a lot from a network processor that is to handle the 'translation' between different networks and protocols. In the NP40, HMS combines a powerful ARM Cortex M3 core with an FPGA fabric on the same chip, allowing both fast data transfer and real-time synchronization in hardware/FPGA.
The NP40 technology gives users the best of both worlds. They get the speed and accuracy they need for demanding applications, and the flexibility to adapt to different networks by simply downloading a new firmware. The solution is based on MicroSemi SmartFusion technology but integrates HMS's unique blocks like our RTA (Real Time Accelerator) for industrial communication."
Inside the NP40
The Anybus NP40 is a single chip network processor that includes a high-performance ARM core and an FPGA (Field-Programmable Gate Array) fabric. The ARM core runs the protocol and application stacks while the FPGA fabric is used to implement the various real-time Ethernet interfaces.
A real-time-switch is integrated into the FPGA fabric and it supports synchronous cyclic messaging in real-time networks such as PROFINET IRT, Powerlink, EtherCAT and Sercos III. Since the network processor is flash-based, it can be re-programmed for several different industrial Ethernet networks.
The NP40 is built on technology from Microsemi Inc. and the architecture is designed to combine performance, low power consumption and flexibility in a single chip design.
Availability
The NP40 is already powering the network connectivity for industrial devices in pilot installations. The network processor will be on display on various tradeshows such as SPS/IPC/Drives in Germany and the Rockwell Automation Fair in the US during the fall. The wider release of the network processor, as part of Anybus embedded solutions, will take place during 2013.
The NP40, in combination with Anybus protocol and application software, make up the Anybus CompactCom C40 solution – a ready-made network connectivity solution on a single chip.