Ultra-low Cost Solution Targets Entry Level Deployments
News Highlights
Ninth generation ADSL solution with simple design and small memory enables meaningful cost efficiencies
Supports a home LAN environment with a variety of connectivity options for emerging markets
Broadcom Corporation announced its optimized, entry level ADSL gateway solution for emerging markets. With small memory support, the ninth generation Broadcom BCM6318 ADSL2+ gateway complements Broadcom's existing xDSL product lines by offering an ultra-low cost solution for entry level products.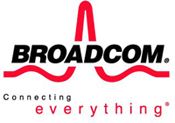 Key Features
Focused on the entry level ADSL router and gateway market, the BCM6318 enables service providers to leverageBroadcom's turnkey software offering across an even wider range of xDSL solutions. Broadcom's BCM6318 features multiple Ethernet ports coupled with expansion ports to enable USB 2.0, and Wi-Fi connectivity enabling a powerful home networking experience for the entry level market segment of a service provider's connectivity offering.
Availability
The BCM6318 is currently shipping and will be demonstrated at Broadcom's Booth at 2013 CES International.