Cypress Semiconductor announced a new device series in its PSoC 1 programmable system-on-chip family. The new CY8C24x93 device series, the lowest-power and lowest-cost devices in the PSoC 1 family, is optimized for battery-powered applications, leveraging a 1.1 µA Standby mode and 100 nA Deep-Sleep mode to extend battery life. The family integrates Full Speed USB 2.0 with a Serial Peripheral Interface (SPI), enabling streamlined, cost-efficient design with programmable serial bridges.
The CY8C24x93 PSoC 1 devices come in multiple small-footprint packaging options, including a 3 × 3 mm QFN package. The devices integrate a 10-bit ADC and two comparators, along with 16-bit timers. The combination of the small package sizes and analog resources make the family ideal for integrated, space-constrained system solutions that involve basic analog signal processing.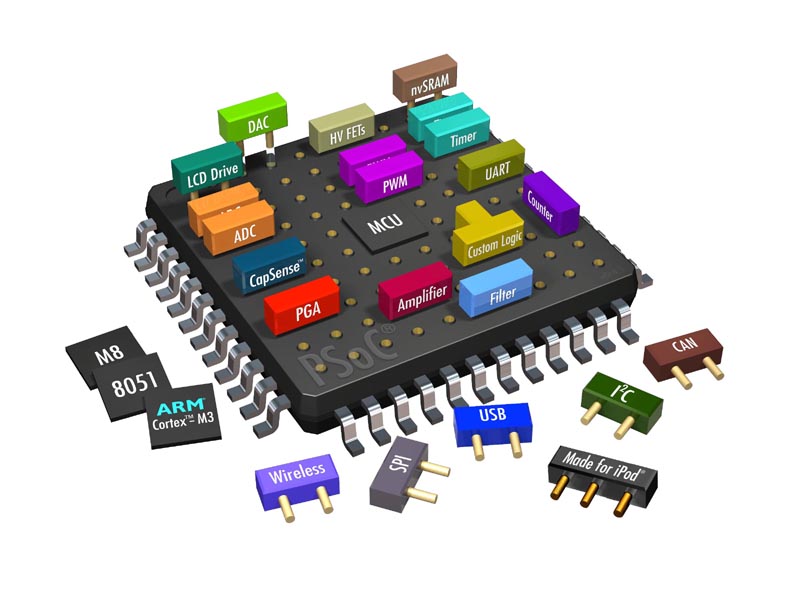 PSoC 1 devices are supported by Cypress's revolutionary PSoC Designer Integrated Design Environment (IDE). The IDE features pre-verified, production-ready User Modules — free "Virtual Chips" within a PSoC 1 device that replace and integrate multiple competitor chips to create custom solutions. Designers can accelerate system bring-up and time-to-market by dropping in user modules to implement a wide range of functionality.
The CY8C24x93 family comes in 8-, 16-, and 32-KB Flash options. The devices also support a wide operating range, allowing full analog and digital operation from 1.71V to 5.5V.
Availability
The CY8C24x93 family is available starting at $0.50 each for 10,000 unit quantities. Sample and production orders are available today.