The New RL78/F13 and RL78/F14 Product Groups Offer 91 Low-Power, Automotive MCUs as Platform Solutions
Renesas Electronics announced the availability of the new RL78/F13 and RL78/F14 16-bit microcontrollers (MCUs) that contribute to enhanced development efficiency, reduced system costs, lower system power consumption and improved functional safety features for automotive control systems.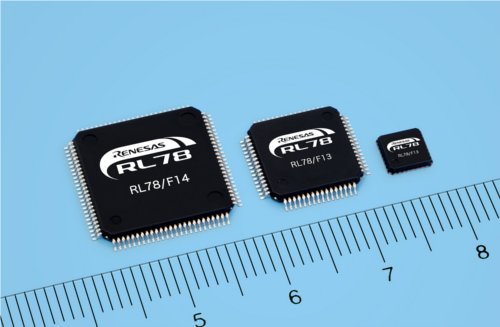 The new MCUs consist of total of 91 products including 60 products in the RL78/F13 Group and 31 products in the FL78/F14 Group. The RL78/F13 MCUs are designed for use in an extensive range of automotive applications; from body control systems such as power window and side mirror control, to automotive motor control systems such as electric water pumps and cooling fans. The RL78/F14 MCUs support the body control system applications, such as BCM (body control module) and HVAC (heating, ventilation, and air conditioning) control that require especially large memory capacities.
Key features of the RL78/F13 and RL78/F14 MCUs:
Extensive product lineup that supports easy platform standardization contribute to development efficiency. To support needs such as the ability to change ROM sizes due to difference in system specifications to supporting reuse in a completely different system, the new MCUs all integrate the same CPU core, peripheral functions including automotive networks such as CAN (Controller Area Network) and LIN (Local Interconnect Network), and pin layout.
Compact package and support for high-temperature operation up to 150°C allow reduction of the overall unit size. Renesas has developed a new QFN (Quad Flat No-leads) package to respond to needs for even more compact ECUs (electronic control units). When compared to Renesas' existing 32-pin SSOP (Shrink Small Outline Package), the new QFN package can reduce mounting areas by approximately 69 percent. Compared to Renesas' existing QFN packages, the new QFN package has indentations on the pin side surface to improve solder wettability during mounting. This makes it possible to mount the new MCU devices without making any changes to the factory production line.
50 percent reduced standby mode power consumption contribute to low power system design. By adopting a lower current consumption process, standby mode current consumption of the RL78/F13 and RL78/F14 MCUs are reduced by 50 percent from the 1 µA (microampere) of Renesas' existing 78K0R/Fx3 MCUs to 500 nA (nanoampere). The new MCUs also contribute to lower system power consumption with a function that allows A/D conversions to be performed without activating the CPU.
Extensive set of hardware functions that support functional safety. The RL78/F13 and RL78/F14 MCUs incorporate a variety of hardware features that support systems' functional safety including: a test function that verifies that the A/D converter is operating correctly by converting a reference voltage or the power supply voltage and comparing the result to a standard value; a function that prevents software runaway by detecting stack overflow with an interrupt; and a function that detects if an external clock oscillator has stopped by comparing it to an internal oscillator.
Availability
Sample of Renesas Electronics' new RL78/F13 and RL78/F14 MCUs will be available in October 2013. Mass production is scheduled to begin in September 2014.