Fremont Micro Devices USA Inc announced the FT833 Family of primary side Constant Current drivers for LED applications. The first four members of the Family include the FT833S (3 W), FT833A (6 W), FT833B (9 W) and FT833BD (12 W). These high precision devices are designed to work in the inductor current discontinuous conduction mode (DCM) and target flyback converter input applications. Using universal AC input voltage of 85 V to 264 V.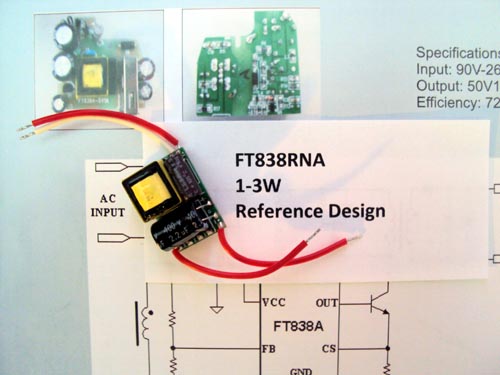 "The FT833 Family adds to the growing portfolio of Fremont Micro Devices LED solutions. They target isolated solid state lighting applications, GU10 / E27 LED bulb and spot light applications." said, Jim Panfil, Vice President of Sales and Marketing at Fremont Micro Devices USA. "The loop compensation components have been removed to maintain stability for all operating conditions. The proprietary source drive architecture and special demagnetization sensing technology have a very low operating current. The auxiliary winding for output sensing was eliminated resulting in a lower component count and smaller system size." He added.
The FT833 has an integrated 650 V power MOSFET plus a highly accurate current sensing method with an LED current accuracy of 3%. The built in protection functions including LED open / short circuit protection, over temperature compensation and the industry leading OVP voltage accuracy greatly enhance system reliability and safety.
Pricing is for volume orders of 10ku:
FT833A11-RB with a maximum output power of 6W has a suggested price of $0.10, SOP-8 package
FT833B12-RB with a maximum output power of 9W has a suggested price of $0.15, SOP-8 package
FT833S11-RB with a maximum output power of 3W has a suggested price of $0.09, SOP-8 package
FT833BD-DRB with a maximum output power of 12W has a suggested price of $0.17, DIP-8 package