NXP Semiconductors announced the expansion of its portfolio of LPC microcontrollers rated for temperatures up to 105°C. Giving engineers wider choice when selecting entry-level microcontrollers, the new LPC11E6x family is designed for harsh operating conditions common in many industrial, lighting, and industrial automation applications.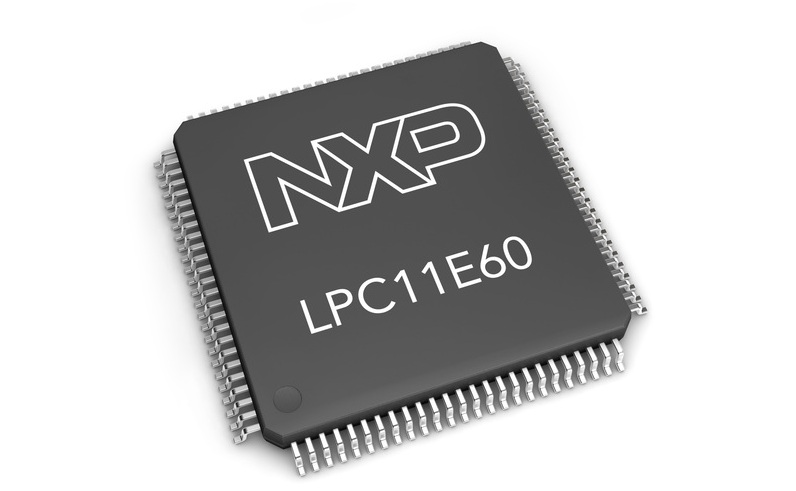 The new LPC11E6x family is available in three memory and package variations, including up to 256 kB Flash, 36 kB RAM and 4 kB EEPROM. Exceptional power efficiency is achieved through an ARM®Cortex-M0+™ core and NXP's power profiles that allow various power saving options depending on the application demands. High-precision analog features include a best-in-class 2 Msps, 12-channel, 12-bit ADC, and ample connectivity is provided through I2C and SPI interfaces, USARTs, and up to 80 GPIOs.
Also new to the LPC1100 Series, the LPC11E6x's two on-chip SCTimer/PWMs support advanced timing features. This unique block can operate like most traditional timers, and includes a state machine to give programmers a higher degree of timing control and programmability. It can be configured as multiple PWMs, a PWM with dead-time control, a PWM with reset capability, and many other functions that cannot be duplicated with traditional timers. In addition, the SCTimer/PWM Cookbook provides a collection of examples and usage notes to help programmers quickly implement popular timing functions for LPC11E6x applications.
The LPC portfolio now includes 136 microcontrollers qualified for use at 105°C, including all LPC800, LPC1800, and LPC4300 devices. Many existing LPC1100 parts have also been re-qualified to 105°C, since originally released, including LPC11U6x, LPC11E6x, and LPC111x MCUs.
LPC11E6x key features:
ARM Cortex M0+ core, operating at frequencies up to 50 MHz
Up to 4 kB EEPROM, 256 kB Flash, and 36kB RAM
High-precision analog: two Msps, 12-channel, 12-bit ADC and temperature sensor
Timing subsystem: two SCTimer/PWMs, four multi-purpose timers, and real-time clock (RTC)
Connectivity: two I2C interfaces, two SPI interfaces, up to 5 USARTs, up to 80 GPIO pins
A DMA controller
A CRC engine
ROM drivers for Power Profiles
Software- and tool-compatible with existing LPC11U/Exx and LPC134x parts
LPC11E6x is fully supported by the LPC software ecosystem and an extensive collection of tools, drivers and middleware, as well as popular forums and blogs in constant use by a highly engaged and collaborative community of embedded developers. Free to all LPC11Exx developers, the NXP LPCXpresso development platform includes a full featured C/C++ IDE and LPCOpen firmware libraries complemented by low-cost target boards with on-board debug probes. LPCOpen incorporates device drivers, stacks, and graphics libraries that enable rapid code development and can be used with a wide range of third-party RTOSs, middleware solutions, and popular third-party ARM development tools including Keil and IAR.