Vishay Intertechnology, Inc. is broadening its optoelectronics portfolio with the introduction of two new automotive-grade high-speed silicon PIN photodiodes in clear- and black-epoxy 1206 surface-mount packages measuring 4 mm by 2 mm by 1.05 mm. Offering a sensitive area of 0.85 mm2, the Vishay Semiconductors VEMD6010X01 and VEMD6110X01 provide a high reverse light current of 9.5 µA — three times that of previously released devices — and a very low dark current of 1 nA for automotive and industrial applications.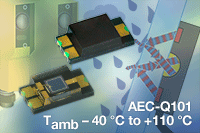 The AEC-Q101-qualified devices released today are optimized for photo detection in applications such as light curtains, light barriers, metering systems, switches, and rain and sun sensors. For the detection of visible and near infrared radiation, the VEMD6010X01 is a clear epoxy device with a wide sensitivity range of 450 nm to 1100 nm. For 750 nm to 1050 nm infrared applications, the VEMD6110X01 is a black epoxy device with a daylight blocking filter matched with 830 nm to 950 nm IR emitters.
The VEMD6010X01 and VEMD6110X01 feature fast response times, ± 60° angles of half intensity, a wide temperature range of -40 °C to +110 °C, and 900 nm and 950 nm wavelengths of peak sensitivity, respectively. RoHS-compliant, halogen-free, and Vishay green, the photodiodes support lead (Pb)-free processing and provide a moisture sensitivity level (MSL) of 4, in accordance with J-STD-020 for a floor life of 72 hours.