E931.98 for outdoor motion sensor lights
Elmos introduces the E931.98 integrated circuit for motion detection with conventional PIR detectors.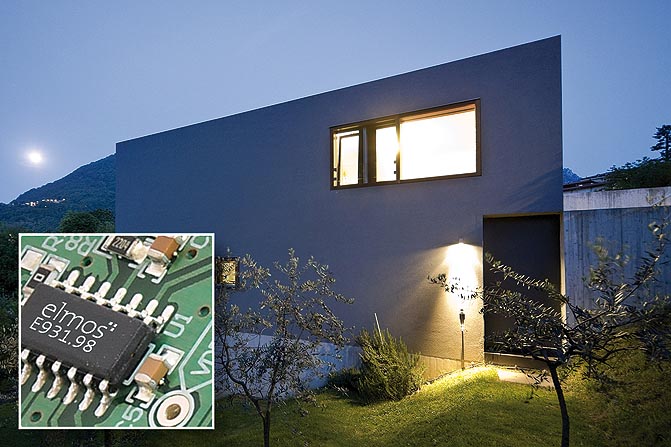 The signal from the detector is analysed and a load switch output activated, once motion is detected. There is no settling requirement after power up.
The switching of the load is performed during mains voltage zero crossing to protect the relay contacts, which leads to much longer lifetime. This feature is very efficient with energy saving light fittings, which are commonly used. The zero cross switching adapts to the characteristics (switching delay) of the relay during operation.
A daylight sensor may be connected to the OEN input to de-activate detection and switching during daylight.
Inputs for the adjustment of the detection range for motion and for the on-time of the load are provided.
A built in shunt regulator makes the device suitable for applications with or without regulated power supplies.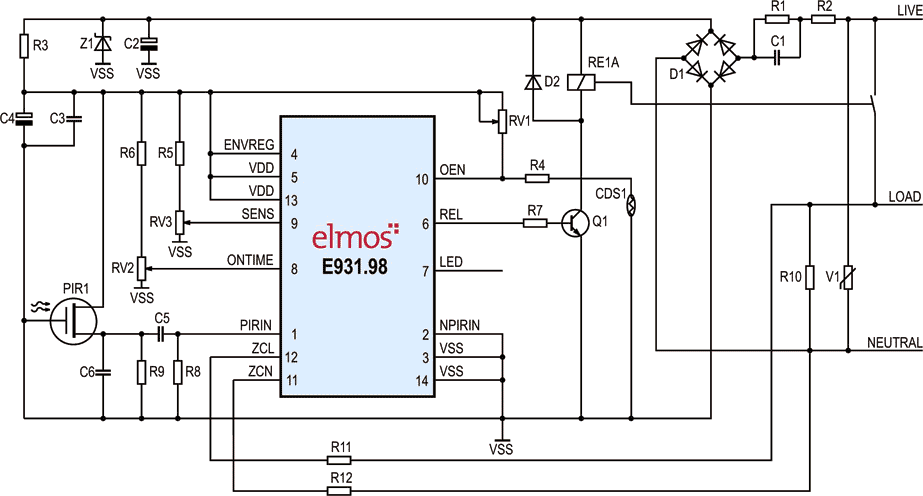 Typical Application Circuit
The fully integrated solution requires only very few external components. All signal processing is performed digitally on chip resulting in zero drift and practically no ageing.
A high level of protection against RF interference can be achieved with little or no effort.
The E931.98 is most suitable for mains powered outdoor motion sensor lights.
The integrated circuit is packaged in a cost effective SOIC-14 package.
Samples of the E931.98 PIR controller are immediately available for evaluation.