Zilog Releases New Z8 Encore! XP® F6482 Microcontroller for High Performance and Low Power Applications
Zilog, Inc., a wholly-owned subsidiary of IXYS Corporation introduced its Z8 Encore! XP® F6482 Series MCU, the latest in Zilog's line of Z8 Encore! XP® Flash microcontroller products. These F6482 Series products are based on Zilog's advanced 8-bit eZ8 CPU core and are optimized for low-power and wireless applications, supporting 1.8 V to 3.6 V low-voltage operations with extremely low Active, Mode currents, and offer an assortment of speed and low power options.

The I/O capabilities of the F6482 Series MCUs make them suitable for a wide variety of applications including safety and security, utility metering, digital power supervisory, hand-held electronics, and general motor control. The F6482 Series features up to 67 port pins (ports A–J) for general purpose input/output (GPIO); the number of GPIO pins available is a function of package type. Each pin is individually programmable.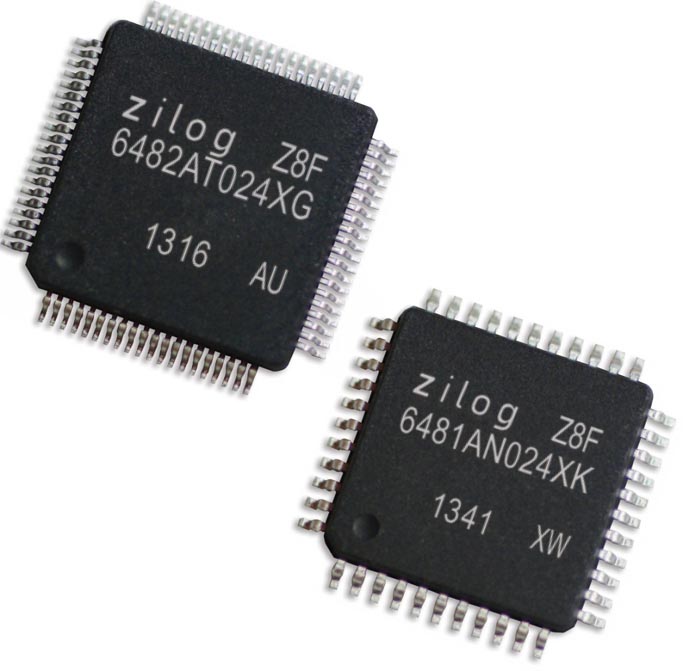 Zilog's F6482 Series MCUs feature the following functionality:
24 MHz eZ8 CPU core
16 KB, 32 KB, 60 KB or 64 KB Flash memory with in-circuit programming capability
2 KB or 3.75 KB internal RAM
Up to 128 bytes Non-Volatile Data Storage (NVDS)
12-bit (or 14-bit 2-pass) Analog-to-Digital Converter
12-bit Digital-to-Analog Converter (DAC)
Up to 12 external channels plus dedicated inputs for op amps (2)
Internal or external voltage reference and single ended or differential inputs
Integrated LCD driver with blinking and contrast control for up to 96 segments (4 common by 24 segment lines)
128-bit Advanced Encryption Standard (AES) encryption/decryption hardware accelerator according to FIPS PUB 197
Real Time Clock (RTC) supporting both Counter and Clock modes
On-chip temperature sensor
Two on-chip low power analog comparators
Two on-chip, low power operational amplifiers
8-channel Event System provides communication between peripherals for autonomous triggering
Full speed Universal Serial Bus (USB 2.0) device supporting eight endpoints with integrated USB-PHY
Two full duplex UARTs with Local Interconnect Network (LIN), Digital Addressable Lighting Interface (DALI) and Digital Multiplex (DMX) protocol modes.
Support for 9-bit (multiprocessor) and RS-485 driver enable
Two enhanced Serial Peripheral Interface (SPI) controllers
I2C controller which supports Master/Slave modes
Four channel DMA controller with direct or linked-list operation
Three enhanced 16-bit timers with Capture, Compare, and PWM capability
Two additional basic 16-bit timers with interrupt (shared as UART Baud Rate Generator)
16-bit Multi-Channel Timer which supports four Capture/Compare/PWM modules
Zilog's F6482 Series devices are currently in production and available to ship to customers that place orders through distributors.
You may have to

register

before you can post comments and get full access to forum.
News on theme:
RadioLocman on the Social Web: