Manufacturers can Design Highly Efficient and Reliable Power Supplies for Server, Telecom, Industrial, PC and TV Applications
Fairchild launched its new FAN7688, an advanced LLC resonant controller with Synchronous Rectification (SR) that provides best-in-class efficiency for isolated DC-DC converters. The unique features and superior efficiency of the FAN7688 enables manufacturers to improve the reliability and efficiency of the power supplies for server, telecom, industrial, PC and TV applications.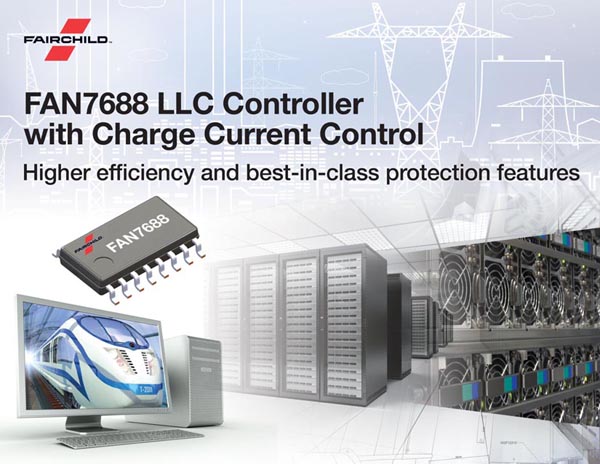 The FAN7688 incorporates Fairchild's innovative Charge Current Control Technology, which uniquely enables it to utilize current mode control, as opposed to voltage mode control, which is traditionally used in other LLC solutions. As the industry's first and only LLC resonant controller with current mode control and SR, the FAN7688 allows for tighter and faster output regulation against load transients and also simplifies the control loop, which makes designing it into power supplies easier than traditional LLC resonant controllers. Additionally, the FAN7688's Adaptive Dual Edge Secondary Side Synchronous Rectifier Control ensures high reliability and stable SR operation of both load and line transients.
The FAN7688's current mode control is a technique based on a charge control providing a better control-to-output transfer function of the power stage simplifying the feedback loop design while allowing true input power limit capability. Closed-loop soft-start allows a monotonic rising of the output voltage regardless of load condition. The dual edge tracking adaptive dead time control minimizes the body diode conduction time, thus maximizing efficiency.
The FAN7688 incorporates multiple features to ensure high efficiency in power supply applications – typically 97 percent for 400 V input and 12 V output applications. The efficiency of the FAN7688 is also enhanced by its comprehensive set of protection functions, including over-load protection, over-current protection, output-short protection and over-voltage protection.
Availability
The new FAN7688 is available today in distribution and two evaluation boards can also be ordered, the 306 W FEBFAN7668 and the 250 W FEBFAN7688A, which is recommended for designers who want to evaluate the LLC in detail.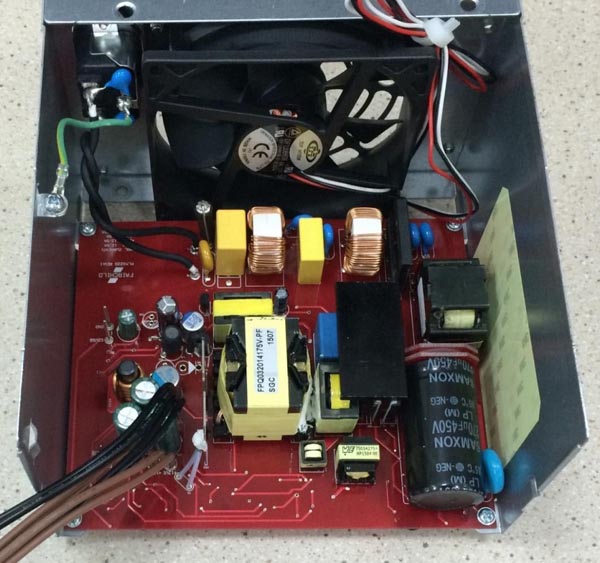 The FEBFAN7668 Evaluation Board.