»
News
»
Memory
·
Automotive
Microchip Introduces Industry's First Automotive SQI Flash
SST26VF SQI Family of Flash Products Now Available With Improved Functionality and Low Power Consumption
Microchip Technology Inc. announced the introduction of automotive-grade NOR Flash products with wider voltage and a larger temperature range. With the SST26VF SQI product family, Microchip becomes the only vendor in the industry to offer an extended-voltage Serial Quad I/O Flash device in automotive temperature grades. The new family of products, available in densities of 16-, 32- and 64- Megabits, operates at Automotive Grade 2 and 3 and extends the operating voltage from 2.7 V down to 2.3 V and temperature up to 105°C.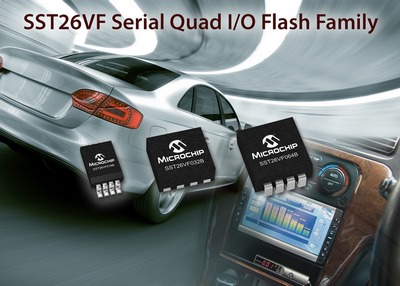 The SST26VF offers numerous features and benefits achieved with SST's proprietary, high-performance SuperFlash technology, which significantly improves performance and reliability, and reduces power consumption for high-bandwidth, compact designs. The SST26VF family consumes 15 mA in typical high-speed operating conditions, which benefits automotive applications working to meet growing energy saving requirements.
The robustness of the SuperFlash technology memory cell brings high endurance to rewrite cycling and excellent data retention with extremely low failure rate and good performance at high temperatures. All of these features are critical parameters to meet the vigorous requirements for automotive quality and reliability. The product also supports the long life cycle required by the automotive industry.
Key features:
Serial Interface Architecture- Nibble-wide multiplexed I/O's with SPI-like serial command structure
Flexible Erase Capability- Uniform 4 KByte sectors, Four 8 KByte top and bottom parameter overlay blocks, One 32 KByte top and bottom overlay block, Uniform 64 KByte overlay blocks
Software Write Protection- Individual Block-Locking: 64 KByte blocks, two 32 KByte blocks, and eight 8 KByte parameter blocks
Low Power Consumption: Active Read current: 15 mA (typical @ 104 MHz), Standby Current: 15 µA (typical), Deep Power-Down Current: 2.5 µA (typical)
SFDP (Serial Flash Discoverable Parameters)
Packages Available: 8-contact WDFN (6 mm × 5 mm), 8-lead SOIC, 8-lead SOIJ
Temperature Range:
Extended –40 °C to +105 °C
Automotive Grade 2 and 3 available
You may have to

register

before you can post comments and get full access to forum.
News on theme:
RadioLocman on the Social Web: