PN7462 is a unique family of single-chip solutions that combines a low power ARM® Cortex®-M0 microcontroller core with USB, a contact as well as a contactless interface with full NFC - all in one highly integrated chip. The NFC controller can be loaded with fully-custom applications, targeting access management, home banking or USB reader solutions.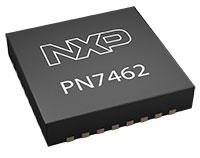 Low-power operation, extensive memory resources, a complete set of host and peripheral interfaces, and reader libraries compliant with different standards combined to enhance performance while simplifying final certification and delivery. Thanks to the integration of Dynamic Power Control (DPC) the optimized antenna operation enables best-in-class performance.
Additional PN7462 family features include:
20 MHz Cortex-M0 core
80/160 kB Flash, 12 kB RAM, 4 kB EEPROM
State-of-the-art RF interface: Full NFC, EMVCo 2.5
Read/Write, Card Emulation & Peer-to-Peer Modes
Transmitter current up to 250 mA
Full MIFARE family support
DPC for optimized antenna performance
Extensive host and peripheral interfaces
Host/slave & master interfaces: I2C, SPI, USB, HSUART
Optional contact interface (PN7462): UART, ISO/IEC 7816, EMVCo 4.3
12 to 21 GPIOs
Advanced power management
Extensive support tools, including sample source code
EMVCo and NFC Forum compliance for easy certification
HVQFN64 package (9 × 9 mm)
ISO/IEC 14443 Type A&B licenses
Advanced customization
The ARM Cortex-M0 core includes up to 160 kB of Flash and can be configured to run fully-custom applications. A full set of host/slave and master interfaces, along with up to 21 GPIOs and the optional contact interface, give developers the widest range of flexibility and options for functionality. A primary downloader enables firmware downloads using the SWD interface and USB mass storage. In Application Programming (IAP) ensures infield firmware upgradability.
Quick development of complete applications
Backed by an extensive set of support tools, the PN7462 family makes it easy to complete a design. The devices are compatible with industry-standard development tools for embedded and come with a complete evaluation kit (OM27462CDK). To simplify the certification process, the devices are supplied with libraries that are validated and pre-certified for EMVCo hardware and software (contact and contactless), and also comply with NFC Forum guidelines for NFC analog and digital, as well as the MIFARE card family.
Derivatives and NFC/BLE reference design
The family includes the PN7462, which has an optional contact interface and 160 kB of Flash, the PN7362, with 160 kB of Flash, and the PN7360, with 80 kB of Flash.
NXP's additional NFC/BLE reference design (OM27462NBR) based on the PN7462 and the QN902x Bluetooth 4.0 Low Energy family particularly addresses the fast growing hospitality market enabling total interoperability of the solution.