Skyworks is pleased to introduce the SKY65623-682LF, a low noise amplifier (LNA) designed for applications such as wearables, asset trackers, navigation devices, action cameras and more. This discrete LNA has a very low current and single power supply and features an extremely compact form factor for low-power Internet of Things (IoT) devices.
The SKY65623-682LF is a Microwave Monolithic Integrated Circuit (MMIC) front-end low-noise amplifier (LNA) designed for Global Navigation Satellite System (GNSS) radio receiver applications. The device provides low current consumption, excellent gain, and a superior noise figure (NF). Output matching components are embedded inside the device. Only one external input matching inductor is required.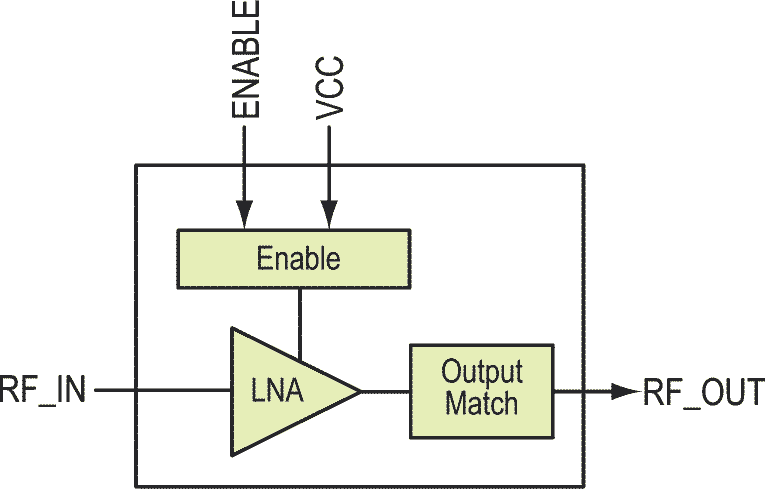 SKY65623-682LF Block Diagram.
The SKY65623-682LF is optimized to operate at 1559 to 1606 MHz, which makes it ideal for GPS/GLONASS/Galileo/Compass radio receiver applications.
The SKY65623-682LF is fabricated using advanced SiGe BiCMOS technology. The LNA uses surface-mount technology (SMT) in the form of a 0.8 × 0.8 mm Quad Flat No-Lead (QFN) package, which allows for a highly manufacturable and low-cost solution.
Features
Frequency range: 1559 to 1606 MHz
Small signal gain: 16.5 dB typical
Low noise figure: 0.85 dB typical
Out-of-band IIP3: –11.5 dBm typical
Low current consumption: 1 mA typical
Low shutdown current: 0.1 μA typical
Output impedance internally matched to 50 Ohms
Single external input matching inductor
Single DC supply: 1.5 to 3.6 V
Small QFN (5-pin, 0.8 × 0.8 × 0.32 mm) package