Allegro MicroSystems introduces a new dual-channel Hall-effect sensor ideal for use in speed and direction sensing applications incorporating encoder ring magnet targets. Allegro's A3423 provides output signals that indicate speed and direction of the target. The Hall elements are both photo lithographically aligned to better than 1 μm. Maintaining accurate mechanical location between the two active Hall elements eliminates the major manufacturing hurdle encountered in fine-pitch detection applications.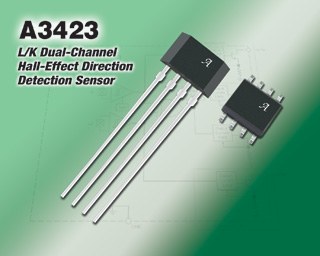 This device is highly sensitive and temperature stable making it ideal for use in harsh automotive and industrial environments. The Hall elements of the A3423 are spaced 1.63 mm apart, which provides for excellent speed and direction information for small-geometry targets. Extremely low-drift amplifiers guarantee symmetry between the switches to maintain signal quadrature. An on-chip regulator allows the use of this device over a wide operating voltage range of 3.8 to 24.0 V. End-of-line trimming of the Hall element switchpoints provides for tight matching capability. The continuous-time method of offset cancellation delivers a fast start-up and signal recognition as well as very low noise on the output.
Allegro's A3423 is presently only available in a 4-lead SIP (K) package. This new device is intended to also be offered in a plastic 8-pin SOIC surface mount package starting in approximately September 2007. Please check back with us for further details on the SOIC-8 version.