Diodes Incorporated introduced the AP7380. This series of ultra-low dropout regulators operates from a wide 24 V input voltage range and offers various fixed output voltage options to address common system requirements. These features, combined with high accuracy and an ultra-low quiescent current, make this device well-suited for use in various USB power, portable equipment, consumer, instrumentation and metering applications.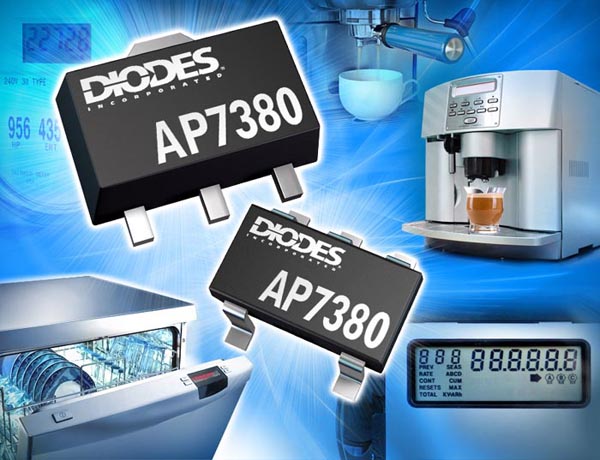 The AP7380's wide 3.5 V to 24 V input voltage range enables operation from standard 5 V, 9 V and 12 V system power rails with sufficient overhead to cope with supply transients. Regulated output voltage variants at 3.0 V, 3.3 V, 4.15 V, 4.4 V and 5.0 V are offered, supporting common point-of-load requirements. The device provides excellent line/load regulation, maintaining a room temperature output accuracy of 1.0% under all I/O voltage conditions up to a maximum rated load current of 150 mA.
The ultra-low dropout performance of the AP7380 is typified by a dropout voltage of just 250 mV at an output voltage of 5 V and load current of 50 mA, while the device's low quiescent current of 1.8 µA minimizes standby power and extends the operating life of battery-powered equipment. The AP7380 also integrates a thermal shutdown function to protect equipment from over-temperature conditions.
The AP7380 series is offered in SOT25 and SOT89 packages.