MAX17222, which features 300 nA IQ and 95% peak efficiency, reduces solution size by up to 50%
With the industry's highest efficiency and lowest quiescent current (IQ) of only 300 nA, the MAX17222 nanoPower boost regulator from Maxim Integrated Products enables the longest battery life in the smallest form factor for wearable and consumer IoT designs. The 0.4 V to 5.5 V input, 1.8 V to 5 V output boost regulator with 500 mA input current limit reduces solution size by up to 50% compared to similar products and offers 95% peak efficiency to minimize heat dissipation. These benefits are ideal for wearable devices which IDC forecasts will experience a compound annual growth rate (CAGR) of 18.4% in 2020.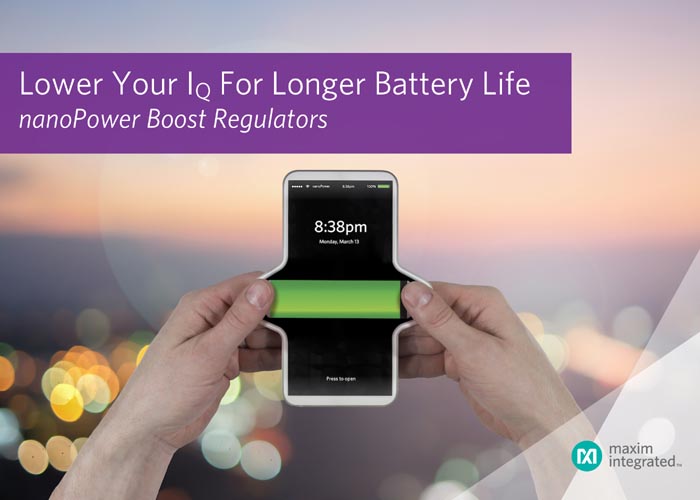 Designers of new wearable, health-monitoring, internet of things (IoT), mobile, and other connected devices are struggling to extend battery life for next-generation products, particularly with increasing functionality and performance in smaller form factors. Power solutions servicing this market require mastery of low quiescent current design techniques and high integration.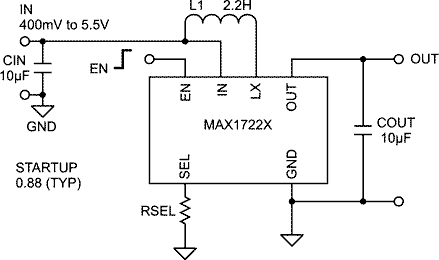 Typical Operating Circuit.
Maxim's MAX17222 not only delivers the lowest quiescent current, but also minimizes heat dissipation and shutdown current. In True Shutdown™ mode, the minuscule current draw of 0.5 nA virtually stops battery drain to provide the longest battery life and eliminate the need for external disconnect switches. Dramatically reducing solution size compared to other similar products, the MAX17222 is internally compensated and requires only a single configuration resistor and small output filter for a full power solution. For ease of use, the boost regulator comes in tiny, density-optimized 0.88 mm × 1.4 mm 6-bump WLP and 2 mm × 2 mm 6-pin standard µDFN packages. It operates over the –40 °C to +85 °C temperature range.
Key Advantages
Longest battery life:
Battery drain is significantly reduced during standby and shutdown modes to maximize operating time; 0.4 V input (with 0.88 V startup input) is compatible with low voltage batteries and supercapacitors

Smallest solution size:
Highly integrated boost solution resulting in up to 50% space savings over similar products

Highest efficiency:
95% peak efficiency minimizes heat dissipation during active operation
Availability and Pricing
The MAX17222ELT+ is available for $1.23 (1000-up, FOB USA) at Maxim's website and select franchised distributors

The MAX17222EVKIT# evaluation kit is available for $34.99

An EE-Sim® model is available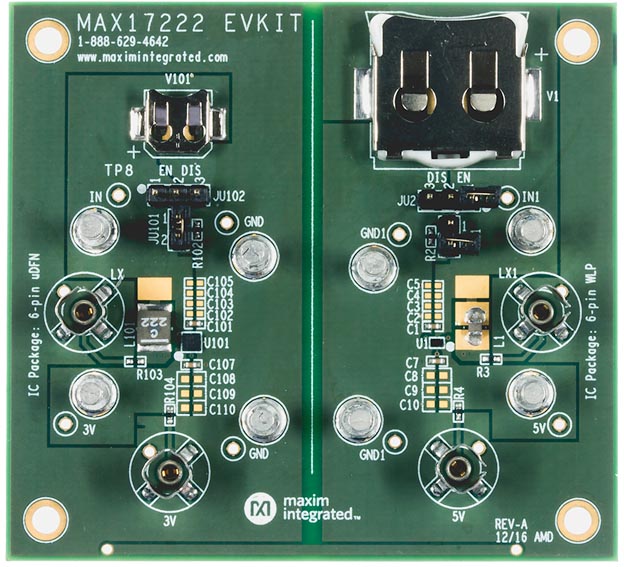 MAX17222EVKIT#: The MAX17222 evaluation kit.
Maxim is also announcing immediate availability of a full suite of nanoPower solutions, including comparators, op amps, and supervisors targeted for ultra-low power applications. These are available at Maxim's website and select franchised distributors.