Diodes Incorporated introduced the SDT series of Schottky diodes. Using an advanced deep-trench process, these devices deliver superior performance at similar or lower cost to planar-type Schottky diodes. The initial family of 29 devices, housed in thermally-efficient packages, provides the blocking, free-wheeling, flyback and other diode functions commonly found in a wide range of applications, such as AC-DC chargers/adapters, DC-DC up/down conversion, and AC LED lighting.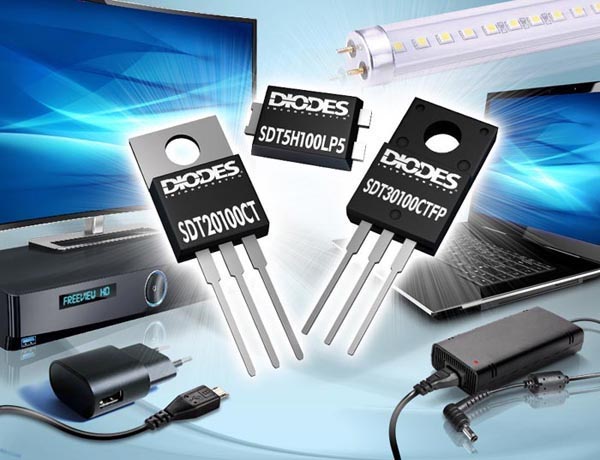 Diodes' innovative deep-trench process enables the SDT series of Schottky diodes to achieve a forward voltage (VF) as low as 0.62 V along with a leakage current of just 3.5 µA. This exceptional performance results in outstanding power efficiency and contributes to smaller form-factors for end-system designs. Within the family, maximum average rectified current ratings from 5 A to 40 A are offered, with peak repetitive reverse voltages (VRRM) up to 120 V and forward surge currents (IFSM) as high as 280 A, ensuring robust system operation across the full temperature range.
PowerDI5, TO220AB, and ITO220AB package options all offer excellent thermal transfer properties that allow the SDT series Schottky diodes to perform reliably in demanding applications. These packages are well-suited for high-volume manufacturing and also allow the SDP parts to be used as drop-in replacements for generic planar-type Schottky diodes.