International Rectifier, IR® introduced the IRF6621/IRF6612 synchronous buck converter chip set. The new 30V DirectFETTM MOSFET synchronous buck converter chip set is designed for 14A to 18A per phase DC-to-DC power conversion in advanced notebook computer designs using the latest Intel® and AMD processors where small size, high efficiency and improved thermal conduction are required.
The chip set consists of the IRF6621 control MOSFET and the IRF6612 synchronous MOSFET, with each device tailored to maximize performance in their role within a synchronous DC-DC buck converter circuit. Control MOSFETs have reduced switching losses, while synchronous MOSFETs have low conduction losses (low on-resistance), and low reverse-recovery charge. The new chip set achieves above 87% efficiency at 18A per phase and exceeds 90% efficiency at a mid-current level of 10A per phase.
The IRF6621, with its very low Qg and Qgd of only 11nC and 3.8nC respectively, is best suited as a control FET. The IRF6621 shows a 15% reduction in on resistance-gate charge (108mOhm-nC) compared to the previous 30VN device (IRF6608, 128mOhm-nC). The IRF6621 is housed in a small can (SQ) DirectFET package, about 38% smaller than an industry-standard SO-8.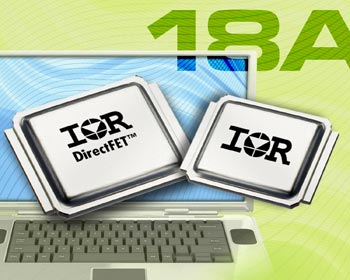 With extremely low typical 4.5V RDS(on) of 3.4 mOhm, the IRF6612 is ideally suited as a synchronous FET in moderate current applications (14A to18A per power channel). The IRF6612 is packaged in a medium can (MX) DirectFET package, enabling an easy design path to other DirectFET family members such as the IRF6611, IRF6678 or IRF6635 in higher current applications or applications where better thermal performance is desired.
| | | | | | | | | |
| --- | --- | --- | --- | --- | --- | --- | --- | --- |
| Part Number | Package | BVDSS (V) | RDS(on) max@10V (mohms) | RDS(on) max@4.5V (mohms) | VGS (V) | ID@TC=25°C (A) | QG typ (nC) | QGD typ (nC) |
| IRF6612 | DirectFET MX | 30 | 3.3 | 4.4 | 20 | 136 | 30 | 10 |
| IRF6621 | DirectFET SQ | 30 | 9.5 | 13.3 | 20 | 55 | 11 | 3.8 |
Availability and Pricing
The IRF6612 and IRF6621 DirectFETTM MOSFETs are available immediately. Pricing is US $1.03 each for the IRF6612 and US $0.76 each for the IRF6621, both in 10,000-unit quantities. The TR suffix indicates Tape and Reel (for example, IRF6612TR and IRF6621TR). Prices are subject to change.
Patented DirectFETTM Packaging Technology
International Rectifier's patented DirectFETTM MOSFET packages present a whole new set of design advantages not previously delivered by standard plastic discrete packages. Their metal can construction enables dual-side cooling that effectively doubles the current handling capacity of high frequency DC-DC buck converters powering advanced microprocessors. In addition, devices in the DirectFET package are RoHs compliant containing no lead or bromide.