New device includes improved desaturation sensing function
Toshiba Electronics Europe announced the launch of a new smart gate driver photocoupler (TLP5214A) for driving medium power IGBTs and power MOSFETs. The TLP5214A is intended for multiple applications where MOSFETs and IGBTs are used including industrial inverters, solar energy inverters, air conditioner inverters and servo amplifiers.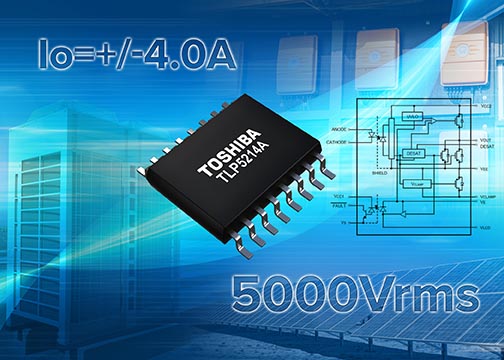 The TLP5214A integrates such features as desaturation leading edge blanking time, filtering time, and optimization of soft turn-off performance. These contribute to secure execution of applications by suppressing short-time pulse noise during switching and desaturation sensing.
Improving on the performance of the TLP5214, the new device boasts a DESAT leading edge blanking time of 1.1 μs (typ.) and a DESAT filter time of 90 ns (typ.). The soft turn-off time of 7 μs is double that of its predecessor.
The TLP5214A operates from a 15 to 30 V supply and is able to deliver a peak output current of ±4.0 A (Max.). The short propagation delay of 150 ns (with ±80 ns skew) supports use in high-speed applications. TLP5214A is housed in a SO16L package with a maximum height of 2.3 mm, which meets the requirements of all major safety standards. Its isolation voltage is 5000 Vrms and the minimum creepage / clearance distances is 8.0 mm.
The TLP5214A is already shipping in mass production quantities.
---
Notes:
The latest Gartner market report recognizes Toshiba as the leading manufacturer of optocouplers by sales in 2015 and 2016, with 23% of sale-based market share in CY2016. (Source: Gartner "Market Share: Semiconductor Devices and Applications Worldwide 2016" 30 March, 2016)
Toshiba will continue to deliver products that meet the needs of customers by promoting the development of a diverse portfolio of photocouplers and photorelays tailored to market trends.