MAX14883E delivers ±60 V fault protection, selectable polarity, and robust communications to reduce installation errors
Reduce installation errors for heating, ventilation, and air conditioning (HVAC) and building automation systems with the MAX14883E Control Area Network (CAN) transceiver from Maxim Integrated Products.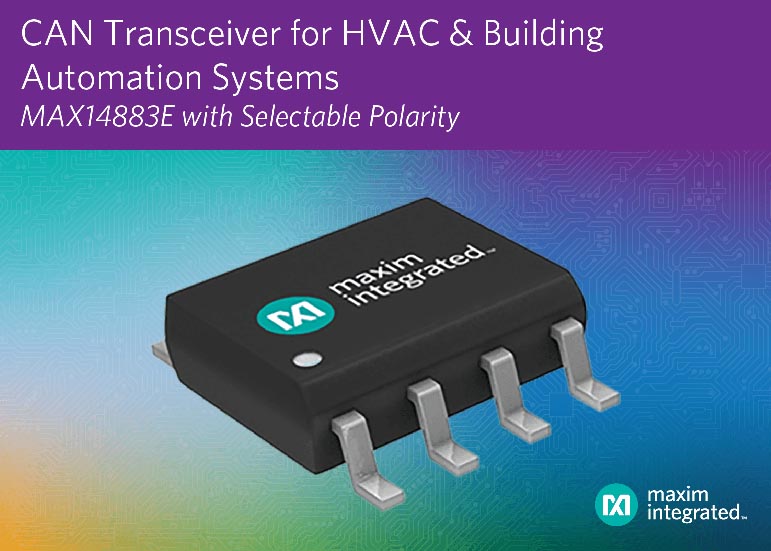 Nowadays, CAN is widely deployed in various industrial applications. In extreme industrial environments, operators can incorrectly connect the CANH (CAN Bus Line High) and CANL (CAN Bus Line Low) lines when installing their systems. As a result, users have the potential of spending valuable time and money uncovering the issue of an incorrect installation which can increase field returns and the risk of communication failures.
The MAX14883E with selectable polarity and high-speed CAN transceiver is optimized for industrial network applications to reduce installation errors and ensure robust communications. It features a polarity selection input (POL) to swap the CANH and CANL I/Os and allow for software correction of cross-wired field cables. In addition, the MAX14883E features ±60 V of fault protection, high ±22 kV ESD protection (HBM), and ±25 V of common mode range on the CANH and CANL lines to ensure robust communications. The transceiver operates at the maximum CAN high-speed data rate (up to 1 Mbps on small networks) from a single 5 V supply (VCC) and includes a logic-level supply input (VL) for interfacing with 1.8 V to 5 V logic. The MAX14883E is available in a narrow, 8-pin SOIC package and operates over the –40 °C to +125 °C temperature range.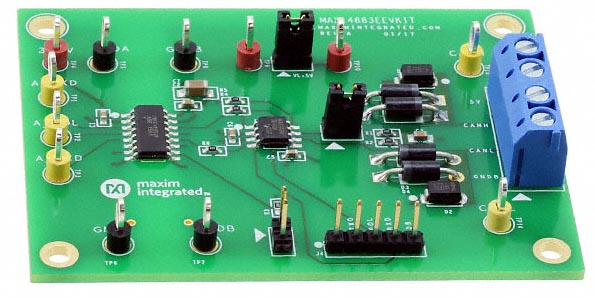 MAX14883E Evaluation Kit.
Key Advantages
Smart:

Integrated selectable polarity reversal


Robust:

±60 V of fault protection,
±22 kV ESD protection (HBM),
±25 V of common mode range


Flexible:

Logic interface simplifies designs, from 1.71 V to 5.5 V logic-supply (VL) range
Availability and Pricing
The MAX14883E is available for $1.36 (1000-up, FOB USA) at Maxim's website and select authorized distributors
The MAX14883EEVKIT evaluation kit is available for $99