Texas Instruments Incorporated (TI) (NYSE: TXN) announced today three new families of low dropout linear regulators (LDOs) that provide low noise, high power supply ripple rejection (PSRR) and fast transient response for powering noise-sensitive analog circuitry such as radio frequency (RF) receivers and transmitters, voltage-controlled oscillators (VCOs) and audio amplifiers. The new LDOs support applications with output currents of 500mA, 1A and 1.5A, such as battery-powered Bluetooth-enabled digital still cameras and personal digital assistants (PDAs), and many applications that operate from a 5/3.3V distributed bus such as line cards and high-end audio products. (See:'power.ti.com/sc03062.)'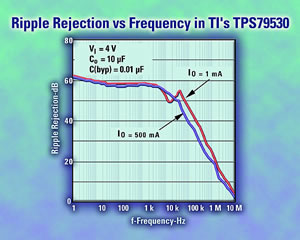 Noise-sensitive applications will benefit from PSRRs of up to 53 decibels (dB) at 10 kHz, the ultra-low output noise (33uV at 100Hz to 100KHz) and fast transient response times. In addition, when the LDO is placed in standby mode, the power supply current is reduced to less than 1uA, extending battery-life in portable applications.

The TPS795xx, TPS796xx and TPS786xx families are available in fixed output voltages that are adjustable over a range of 1.2V to 5.5V. TI's BiCMOS production process allows TI to obtain a low dropout of 250mV at 1A, making the LDOs suitable for post-regulation of switching supplies.
Available Today
The TPS795xx, TPS796xx and TPS786xx are now available in volume from TI and its authorized distributors. The devices are available in a five-pin SOT223-5 package and five-pin DDPAK package. Pricing per 1,000 units of the SOT223-5 option is $.96 for the TPS795xx, $1.04 for the TPS796xx and $1.28 for the TPS786xx.
Key Features
33uVrms output noise at 100Hz to 100KHz'
Up to 53dB PSRR @ 10KHz'
0.1%/V for Output Line Regulation'
Less than 3mV Load Regulation'
3% overall accuracy over temperature and load'
Fast start-up time of 50usec'
Input Voltage range 2.7V - 5.5V
250mV dropout at 1A'
1uA supply current in Shutdown mode'
265uA supply current under full load'
Ceramic output capacitor
TI's Families of Linear Low Dropout Regulators