40 V and 60 V U-MOS-IX-H series in DPAK package offer extremely low RDS(ON) down to 3.1 mΩ
Toshiba Electronics Europe has announced new 40 V and 60 V power MOSFETs based on the company's latest generation U-MOS-IX-H trench semiconductor process.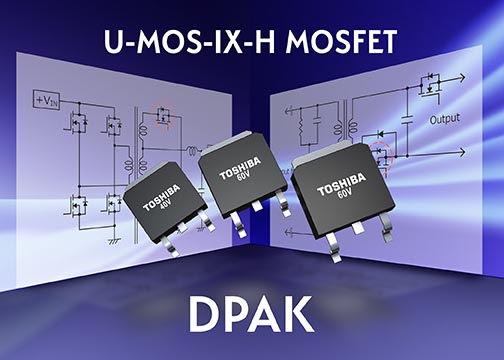 The TK3R1P04PL, TK4R4P06PL and TK6R7P06PL N-channel MOSFETs can be driven by 4.5 V logic levels and offer ultra-low maximum on resistance (RDS(ON)) ratings down to just 3.1 mΩ (@ VGS = 10 V). Supplied in compact DPAK packaging, the devices are ideal for high-efficiency power conversion applications including AC-DC and DC-DC converters, power supplies and motor drives.
The TK3R1P04PL is a 40 V MOSFET with a maximum RDS(ON) of 3.1 mΩ and a maximum drain current (ID) rating of 58 A (at a temperature of 25 °C). The 60 V TK4R4P06PL and TK6R7P06PL have respective maximum RDS(ON) and ID ratings of 4.4 mΩ and 58 A and 6.7 mΩ and 46 A.
All of the new MOSFETs are designed to operate with a low output charge to further optimise efficiency and performance.