Fully-Programmable MicroClock™ Clock Generators Provide Flexibility and Ease Design Constraints in Compact, Battery-powered Applications
Integrated Device Technology (IDT) announced a compact, low-power family of programmable clock generators for wearable applications. IDT's MicroClock™ devices retain the superior programmability and innovative features of the award winning VersaClock® clock generator family in a small 2.5 × 2.5 mm package (80% less board area than conventional discrete solutions). The products draw as little as 2 µA of current in power-down mode while providing a system real-time reference clock (RTC). The small size and low power traits make the devices ideal for compact, portable applications where small form factor and long battery life are key requirements.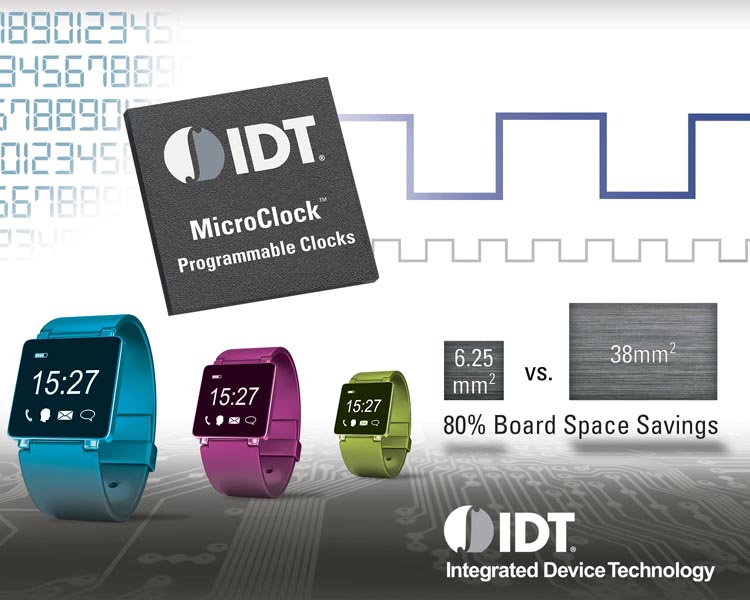 The IDT® 5X2503 and 5L2503 are the first members IDT's MicroClock family of programmable clock generators. Both devices provide independently-programmable LVCMOS outputs with frequencies up to 125 MHz. The devices also support a 32.768 kHz (RTC) on all three outputs, drawing an impressively-low 2 µA. This allows the device to function for over 12 years on a single 220 mAh coin cell battery. The 5X2503 doesn't require a crystal or any form or external reference clock. In addition to maximizing board space saving, this crystal-free device allows designer to focus on the required signals for the downstream components, while the 5L2503 accepts either a crystal or input clock.
The 5X2503 and 5L2503 both feature IDT's proactive power saving (PPS) mode, which intelligently monitors the power down status of the downstream clocked components and automatically switches between normal operation (2 mA for three outputs with one PLL) and power-down mode (2 µA for 32.768 kHz clock only). This results in energy savings with virtually no extra design effort.
In addition to programmability, small size, and low power, IDT's MicroClock devices offer performance of less than 100 ps Cycle to Cycle jitter when all three outputs are set to the same frequency, and less than 200 ps cycle to cycle jitter when the output frequencies are different. This makes the clocks suitable for a wide range of consumer, portable, wearable, and handheld applications. IDT's MicroClock devices are complemented by full development kits, enabling users to program devices on the bench using a PC and IDT's Timing Commander™ GUI.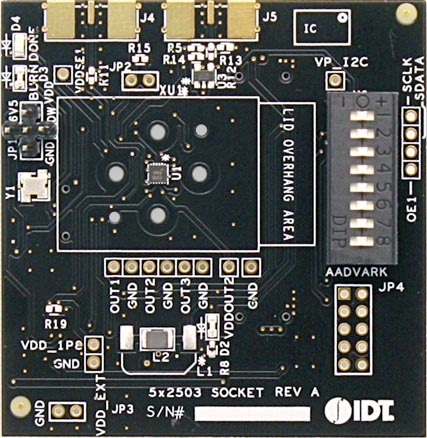 Evaluation Board for 5X2503 MicroClock.
The 5X2503 and 5L2503 are available now. Visit www.IDT.com/5X2503 (integrated crystal) or www.IDT.com/5L2503 (crystal/clock input) to learn more and request samples. Customers may also use IDT's online configuration tool to request factory-programmed samples with customized frequency settings.