Analog Devices announces the LTC5562, a low power, high performance active double-balanced mixer, capable of 50 Ω matching over a very wide frequency range of 30 MHz to 7 GHz. This versatile mixer can be used in either frequency upconversion or downconversion applications, with outstanding conversion gain of 2 dB. The device runs on a single 3.3 V supply rail, drawing 40 mA nominal operating current. If lower power consumption is needed, the mixer can be configured to operate as low as 15 mA, supporting a wide range of portable and transportable RF applications. Moreover, the mixer offers exceptional dynamic range performance: +20 dBm OIP3 at 3.6 GHz frequency.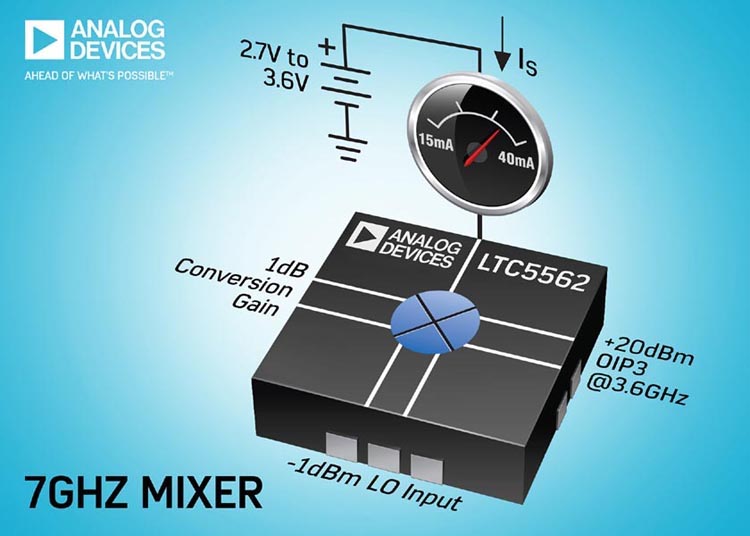 The LTC5562's combination of low power, broadband operation and robust dynamic range is ideal for a wide range of mobile applications such as portable test instruments, battery-powered public safety and emergency radios, military manpack radios, portable modems, broadband access points and small cells, license-free band radios, remote controls, broadcast radios and UAV/drone radios.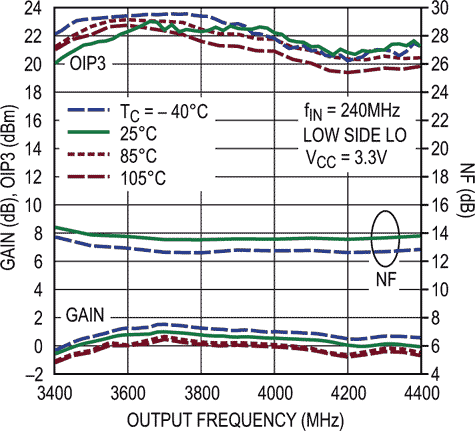 Conversion Gain, OIP3 and NF vs fOUT (PLO = –2 dBm,
ITOTAL = 35 mA).
The LTC5562 is offered in a tiny 10-lead, 2 mm × 2 mm plastic QFN package. The device is rated for operation from –40 °C to 105 °C case temperature. An enable pin allows an external controller to shut down the mixer for extra power savings. When disabled, the device typically draws only 10 μA supply current. Samples and production quantities are available immediately.
Summary of Features: LTC5562
Matched Input Frequency 30 MHz to 7 GHz
Matched LO Frequency LF to 9 GHz
Differential IF Frequency DC to 7 GHz
Up- or Downconversion
High Output IP3 20 dBm at 3.6 GHz 17 dBm at 5.8 GHz
Low LO Drive Level –1 dBm
Low LO-RF Leakage –30 dBm at 5.8 GHz
Conversion Gain 2 dB at 5.8 GHz
Pricing & Availability
| | | | |
| --- | --- | --- | --- |
| Product | Production Availability | Price Each per 1,000 | Package |
| LTC5562 | Now | Starts at $4.75 | 10-Lead, 2 mm × 2 mm Plastic QFN |