Power Integrations, Inc. has extended its DPA-Switch® DC-DC IC family with the introduction of the 10 W DPA422, which enables designers to develop efficient power supply designs for Power Over Ethernet (PoE) applications, and is especially suitable for Class 2 PoE implementations for applications such as VoIP telephones.

Power Integrations' DPA-Switch family is the only scaleable family of parts available that covers all current and proposed PoE classes from 3 W to 30 W and beyond. Rated at up to 10 watts output power, the new DPA422 has been specifically designed to meet the power requirements of IEEE802.3af Class 2 Powered Devices (PDs).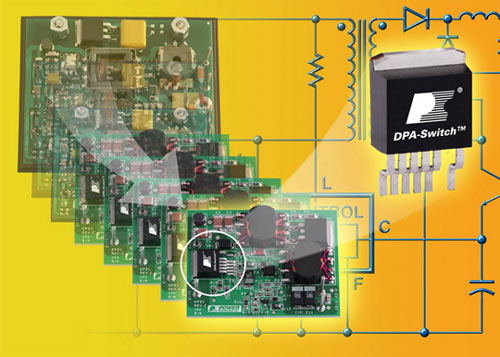 DPA-Switch family devices include a monolithic 220 V MOSFET and feature voltage mode feedback control which requires no slope compensation, an internal, tight tolerance cycle-by-cycle current limit which needs no external current sense components and output overload and loop fault 'auto-restart' protection. Other benefits include remote ON/OFF control, low EMI, high efficiency, soft start and hysteretic thermal shutdown. The DPA422 device is available in DIP-8, SMD 8 package.

Pricing & Availability
DPA422P devices in the DIP-8 are priced at $0.97 in 10,000-piece volumes and are available immediately. As well as PoE implementations, these devices are well suited to DC-DC merchant power supply designs and as a low-cost alternative to power bricks.